The Baseball Hall of Fame vote is released at 2 p.m. today, but why wait that long to treat yourself to the collective moral grandstanding of the world's baseball writers? We've already got their "I filled out my ballot like this, because I must do what is right" columns—each very special one a reminder to you, the common fan, that voting for the Hall is a BIG RESPONSIBILITY and NOT AN EASY TASK. It used to be so fun, you know? Now it's a drag.
Still, somehow, the writers found the strength to bravely struggle with it, and to tell you how they struggled. Let's have a look, shall we? If you guessed virtually all of these people cite paragraph 5 in the voting instructions verbatim ("Voting shall be based upon the player's record, playing ability, integrity, sportsmanship, character and contributions to the team(s) on which the player played."), you'd be right!
Seriously, no one even wanted to have to do it:
The minute I got my first ballot, jammed into that big, yellow envelope with the antique script, I started dreading the winter of 2012.
Tom Haudricourt, Milwaukee Journal-Sentinel:
I have looked forward to receiving my Hall of Fame ballot every December. This time around, it wouldn't have bothered me if it had gotten lost in the mail. This was the ballot that most of the BBWAA electorate had been dreading.
G/O Media may get a commission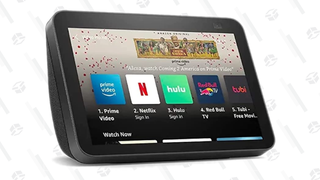 My Hall of Fame ballot sits on my desk as I wait longer than ever to apply check marks, stalling for a clarity I know is never coming.
But the writers saw their duty, and they did it.
Yes, the easy thing would be to throw up my hands, pass the buck, step in line with the many others who say, hey, ain't my responsibility to judge the Steroid Era... I cannot in good conscience cast a vote for the frauds any more than I can walk out of a department store having hidden a shirt in a bag without having paid for it. Fair is fair, just is just, honest is honest.
Things have become difficult this year... I didn't vote for Barry Bonds, Roger Clemens or Sammy Sosa. That's not to say I won't vote for them in the future — as long as they receive a minimum number of votes the players remain on the ballot for 15 years — but they're not getting my nod on the first ballot... Each voter has to make his own decision on this question, but I'm following Rule 5 in the Baseball Writers Association of America's rules for election to the National Baseball Hall of Fame... [repeats it verbatim]
Ann Killion, San Francisco Chronicle:
Believe me, checking the box next to Bonds' name would be an easier decision... I know I'm creating my own headache and may be forced not to vote for anyone for a while because I don't know who used and who didn't. But when there's a preponderance of evidence, as there is with Bonds, who admitted to using though preposterously claimed he didn't know what he was taking, I can't simply ignore it. I can't just rubber-stamp Bonds and the other tainted players on the ballot: Roger Clemens, Sammy Sosa and Mark McGwire among them.

Let me tell you what my ballot says under Paragraph 5, titled "Voting..."
There may not be even one easy "yes" on this ballot... I didn't want to reward the cheats. The steroid guys already hit more home runs, recorded more strikeouts, made more money and won more awards thanks to one thing: having less integrity than some or many of their clean competitors. I am not about to add to their already crowded mantles [sic].
Rick Telander, Chicago Sun-Times:
It used to be easy, voting for the Hall of Fame. And I didn't take it too seriously. With or without my vote, the best players would get in. They always did... The Hall of Fame ballot tells us to consider each candidate's 'integrity, sportsmanship, character' as well as his skills and record. This year I voted for Don Mattingly, Tim Raines, Curt Schilling, Lee Smith and Alan Trammell. I think they were clean. God, I hope so.
Mark Gonzales, Chicago Tribune:
The criteria for the Hall of Fame include judgments about integrity and character. Until that changes, I will continue to abide by those rules.
Bonds, Clemens, Sosa, Palmeiro and McGwire strike out on "integrity, sportsmanship and character."
Sean McAdam, Comcast SportsNet:
It used to be that filling out the Hall of Fame ballot every winter involved sorting through statistics and awards and All-Star honors. Now it involves Congressional testimony, the Mitchell Report and failed drug tests. It used to be about RBI. Now it's about PEDs. It used to be a challenge. Now it's almost impossible. And it used to be fun. Now it's more thankless... On the ballot, there's reference to a player's "record, playing ability, integrity, sportsmanship (and) character..." I find it impossible to dismiss those factors.
Lowell Cohn, Santa Rosa Press Democrat:
The BBWAA asks me to vote and I take my duty seriously. I try never to shirk a moral choice. And believe me, this is a moral choice... Cooperstown is not a statistics Hall of Fame. It is a Hall of Fame with certain standards of behavior.
With the ballots sent to the eligible members of the Baseball Writers' Association of America, standards are set out for the voters' consideration, under the heading, appropriately enough, of "Voting." The instructions include this: "Voting shall be based upon the player's record, playing ability, integrity, sportsmanship, character and contributions to the team(s) on which the player played"... The National Baseball of Fame [sic] is the most exclusive gathering of its sort in all of professional sports. The issue of performance-enhancing drugs is no place to start compromising those lofty and necessary standards.
Philip Hersh, Chicago Tribune:
I don't buy the "Bonds and Clemens were Hall of Famers before they began using PEDs" argument.
But fear not, steroid users. Give baseball writers time...
So let's take a year to think Bonds and Clemens out.
I find granting Bonds a pass for his behavior impossible, for now. Perhaps, after tabling it another year, my stance will change.
Got it? Impossible now... possible LATER. You never know if Paragraph 5 will change!