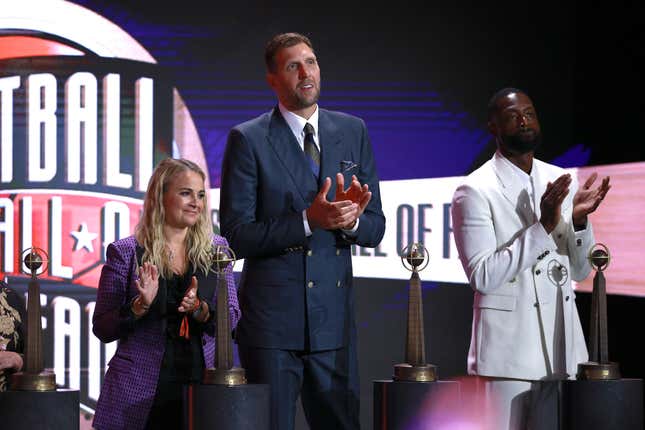 The way that the NBA game is currently played — the spacing, position fluidity, the resting of stars during the regular season — all of that and more has been in the works for 20 years. Prioritizing 3-point shooting to maximize room for drivers and post players did not start and end with Mike D'Antoni's Houston Rockets. However, more than a simple style of play change was represented at the 2023 Basketball Hall of Fame induction ceremony. The 1976 USA Women's National Basketball Team, Gregg Popovich, Becky Hammon, Dirk Nowitski, Tony Parker, Pau Gasol, and Dwayne Wade all helped change the way that basketball looks and sounds.

Grant Hill looks to repeat Team USA's 2004 "success"
Basketball is different from other sports because of the activity level in a confined space. The game is played indoors on a small playing surface compared to the outdoor sports, and scoring a basket is one of the most simple yet still athletic tasks. The goal is 10 feet high so even on an empty court making a shot takes effort, but because it is so high — along with the goaltending rule — there is no goalie.
Combine the simplicity, the goal being in the air, and the short distance between goals, the canvas and supplies are all there for these athletic artists to work. The game has evolved from players plodding in Chuck Taylor's to soaring in Nikes. However, what has truly allowed the game to grow is innovation and inclusion.
Women made their mark in the game
The NBA began as a segregated sport, and later had a quota system that limited Black players. WNBA players still have a low six-figure salary maximum, so basketball is far from perfect. All of that being said, teams like the 1976 women's national team gradually opened the door for more people to feel like they belonged on the floor. They won the silver medal in the first ever women's basketball tournament at the Summer Olympic Games, losing to a Soviet Union team that had Victor Wembanyama-like size advantage over them.
For the women to play so well in this event four years after the passing of Title IX was a large stake driven in the ground for the structure of American women's basketball. Not only were they inducted into the Basketball Hall of Fame on Saturday, but so was Hammon. She became an all star multiple times in the WNBA that was birthed 19 years after those initial women's basketball Olympic games. She went on to become the first woman to be a full-time NBA assistant coach.
Gregg Popovich's distinct style
Hammon was hired by Popovich, who has never been scared to be different. His between quarter interviews can feel awkward, but him being hilariously difficult is the only thing I remember from the NBA's faux intimacy of hearing from a head coach in the middle of a game.
Popovich also never stayed inside the box with his gameplan, or talent pool. Parker also went into the Hall on Saturday, but Popovich has coached many other players from various nations. He ignored the trope that non-American players were soft, and built a near 20-year run with his San Antonio Spurs always in the running for NBA championships. Those teams played all different styles from the twin towers of David Robinson and Tim Duncan of American college basketball post up tradition, to a more perimeter centric game that won Parker a finals MVP in 2007.
Parker deserves to be in the Hall of Fame from his shooting improvement alone. This horsefly quick guard had a stink beetle of a jump shot and turned it into a weapon that staved off a trade for Jason Kidd early in his career, and made him nearly impossible to defend.
You forgot about Dirk
Even with the Spurs' success, those soft labels trailed Nowitski and Gasol throughout their careers. Nowitski might have been the best player in the NBA from 2005-07. When Mark Cuban didn't retain Steve Nash and later Michael Finley, the only other all star to play alongside Nowitski for the rest of his career was Josh Howard. Yet for three consecutive seasons the Dallas Mavericks won at least 58 games and went to the finals in 2006. At 7 feet tall, Nowitski was unstoppable with his offensive number in his prime constantly hovering around 25 points per game and 50/40/90 shooting splits. He would eventually get his NBA Championship in 2011.
Gasol didn't take his shooting all the way out to the 3-point line, but his touch from the midrange and low post moves were exactly what the Los Angeles Lakers needed to win championships in 2009 and 2010. He did not look the same in the paint as Shaquille O'Neal going Earl Campbell on opposing defenses, but go ask Kevin Garnett and Duncan about the difference that Gasol made for the Lakers. Physical dominance does not always result in opposing bodies flying.
And then there's D-Wade and his love for Allen Iverson
In Wade's case it was his own body that he let fly for many years that was his claim to fame. He arrived in the NBA through the more traditional thicket of American inner city poverty and addiction. Wade got through it and became an NBA superstar. A threat from the midrange with a lethal first step. During his speech though, he made time to gush over the influence of Allen Iverson.

Another player who laid his body and more on the line night after night. Few players have ever been more raw than Iverson. He barreled into the league as a No. 1 overall pick from the projects of the Hampton Roads area of Virginia. His court case, conviction, and clemency were a national story before he even finished high school. Even after all of that, he never buttoned up his shirt to better assimilate to mainstream America. He forced people to deal with who he was and where he came from. It turned him into a sports icon for millennials like Wade. Iverson's exact playbook should not be imitated, but his willingness to show that just because he is different should not reduce his humanity left an indelible mark.
A mark that players like Wade, and LeBron James took to heart. They came from a rough place and did not shy away from it. They got tattoos, wore earrings, and even used swear words in public. Wade has had some public controversies in his life as well, and a new challenge with his daughter Zaya being used as part of an anti-transgender agenda. Just like Iverson, we saw flaws and all with Wade and he just kept on coming.
The 2023 Naismith Basketball Hall of Fame class will stand out as one of the most significant in sports history. It is loaded with talent, but it represents more than that. This class is a group that in and of itself tells a rich story of where basketball has come from, and what is still on the way.