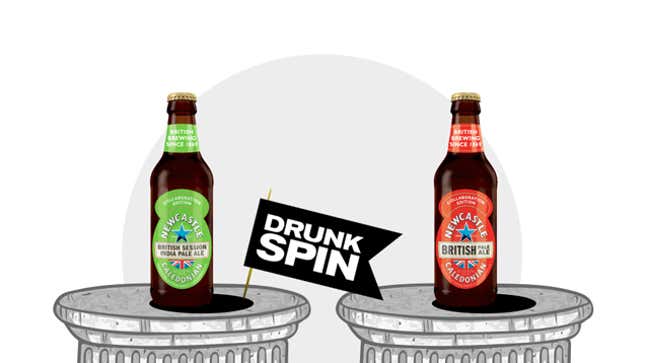 It can't be good for any beer blogger's soggy soul to start the week by putting the word "sucks" in a headline, so I'll try to remedy that by sharing some happy brewski news I heard yesterday afternoon: It seems that yet another new brewery is coming to my area. Everett, Mass., a lovable if not quite lovely suburb of Malden, will soon add Bone Up Brewing to its current roster of Night Shift, Idle Hands, Enlightenment, and whatever else I'm forgetting. Nice.
Does Jimmy Butler have the best NBA Finals origin story? | Agree to Disagree
This good news led to the realization that, for all the talk of the dangerously overinflated Craft Beer Bubble™, we're still gaining breweries a lot faster than we're losing them. In fact, I can't think of a single local place that's closed its doors in the past several years. I'm still pretty sure that a fair few of these upstarts will eventually collapse—who can say yet, since bubbles can't be proven to exist until they pop?—but I think by now we've all said enough premature nay to tide us over until it actually starts to happen.
So now that we've agreed to stuff our heads back in the sand for the next few paragraphs, let's focus on not just the most obvious good news about craft-beer expansion—namely, hooray! more craft beer!—but also the secondary service it has done America's drinkers. The giant macro-crap pushers are clearly at least a little bit spooked by their newer, better competitors, and their two primary reactions to this fear have been to gobble up craft breweries (an admittedly not-always-great practice to which we consumers tend to overreact), and to put at least some semblance of thought and effort into actually improving the quality of their own shit.
It's fun to mock most new beers from old brewers, because very few tasteful drinkers gain much from the latest macro-brew "innovations," as these are quite often literally the same shit in a different can. And even when MillerCoors or AB-InBev roll out a legitimately novel product, it's more likely to be something in the Blew-Ber-Ita vein rather than, say, Budweiser Black Crown, which ain't no great shakes, but is an earnest and somewhat successful attempt to improve upon regular Budweiser.
Now the bigger international brewers are starting to get in on the act, too. For the better part of a century, England's Newcastle got by just fine with their flagship Brown Ale. But the higher end of the American beer market is turning away from imports born just about anywhere but Belgium, and brown ale is not among our favorite styles regardless of provenance. So Newcastle has been mixing it up a bit lately, doing goofy web ads with Anna Kendrick and Aubrey Plaza (which are cool if you overlook the fact that it's sort of distasteful for a company owned by Heineken to play Little Brand That Could), and also introducing a few new beers geared more toward the modern American palate.
They sent me bottles of their new collaborations with Scotland's Caledonian Brewery: British Pale Ale and British Session India Pale Ale. The BS IPA is decent, but it doesn't fill any kind of necessary niche in a country positively drowning in good session IPAs, so let's instead focus on the less-gimmicky, more necessary British Pale Ale.
It opens with busy aromas of earth, light caramel, and grape soda, along with light but discernible grassy hop notes. The flavor is drier than expected, with a pleasant nuttiness joining the party mid-swig, before the herbal hops assert themselves on the finish. This isn't great beer, and I say that as someone who likes British pale ales (which, broadly speaking, are more malt-forward than their American peers), but it is firmly good, which brings us back to that bit of ugliness from the headline. Bass Ale is the most popular British pale in the U.S., and it is terrible. If for that reason alone, Newcastle's rendition has a chance to dramatically improve our overall Beer Happiness Index.
---
This is Drunkspin Daily, the Concourse's adequate source for booze news, reviews, and bullshit. We'll be highlighting a beer a day in this space; please leave suggestions below.

Image by Jim Cooke.
Will Gordon loves life and tolerates dissent. He lives in Cambridge, Mass., and some of his closest friends have met Certified Cicerones. Find him on Twitter @WillGordonAgain.