The 30th anniversary of the infamous George Brett pine tar game is July 24. The Royals are currently back in the Bronx to play the Yankees, and Brett is back with the Royals as their interim hitting coach, with a press conference planned for today so he can talk more about it. But the Wall Street Journal's Daniel Barbarisi caught up with someone at the center of the incident whose story has never been told: Merritt Riley, the 17-year-old bat boy employed by the Yankees who was assigned that day to the Royals' dugout.
Riley, now 47 and a New York City cop, was fond of Brett, whom he says was a "very outgoing, easygoing, friendly guy." Brett would bust Riley's balls, and even took to calling Riley "Spaulding" because he looked a lot like the character Spaulding Smails from the movie Caddyshack. Though an ardent Yankees fan, Riley admitted he found himself rooting for Brett when Brett stepped in to face Goose Gossage that afternoon with two outs and a man on in the top of the ninth.
When Brett homered, Riley was supposed to retrieve the bat and immediately return to the dugout. But he was so excited he waited for Brett at home plate instead. That allowed Yankees catcher Rick Cerone to snatch the bat from his hands, setting off the famously surreal chain of events that followed: the Yanks' protest because there was too much pine tar on Brett's bat, umpire Tim McClelland calling Brett out, Brett exploding out of the dugout and losing his mind, Gaylord Perry making off with the bat to hide the evidence.
On the advice of Lou Cucuzza Sr., then the Yankees' clubhouse manager, Riley hid out in the Yankees clubhouse after the game. Here's Barbarisi on what happened next:
Riley waited in the Yankee clubhouse for about 45 minutes, hoping the Royals would clear out of their side so he could take care of his postgame duties. In the Yankee clubhouse, pitching coach Jeff Torborg told Riley not to feel bad. "The Yankees pay your salary, not the Royals," Torborg told him.
Finally, Riley ventured over to the Kansas City side—only to find Brett still in the clubhouse, answering questions from reporters. Riley froze.
G/O Media may get a commission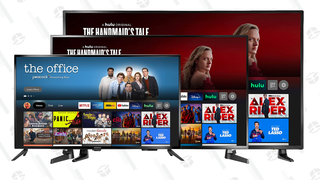 Up to 44% off
Prime Early Access - Insignia Fire TVs
To find out what happened, do yourself a favor and read Barbarisi's story in its entirety here.