Baylor is in the process of settling a lawsuit filed by a former student who claimed in her suit that the university and its Board of Regents "had created a hunting ground for sexual predators to freely prey upon innocent, unsuspecting female students, with no concern of reprisal or consequences."
In her case, the woman said she was raped at a party back in 2015, and the university was "deliberately indifferent" to investigating what happened to her or helping her afterward. There are no public details about the settlement, which was announced by a notice filed Thursday in federal court.
As noted by the Associated Press, this is the first settlement to come from a slew of recent lawsuits related to the university's handling of sexual assault cases. At least three other women who have said they were assaulted have settled with the school, per the AP, but none of those women filed federal lawsuits. Baylor currently faces five federal Title IX discrimination lawsuits along with state criminal and federal civil rights investigations, plus an NCAA probe into the athletic department's role.

While much of the university's sexual assault scandal has centered on the football team—including multiple reports of gang rape as part of a total of at least 52 alleged rapes by football players in four years—Baylor's deficiencies with handling sexual assault have been shown to stretch beyond the athletic department. The lawsuit currently being settled does not involve an athlete, though it took place at an off-campus house affiliated with the rugby team. From the suit:
"[T]he sexual assault issues at Baylor were not an "athletic department issue," but were an institution-wide problem that Baylor and Baylor Regents failed to properly address. As demonstrated in the chronological facts stated below, it is clear that Baylor and the Baylor Regents had created a hunting ground for sexual predators to freely prey upon innocent, unsuspecting female students, with no concern of reprisal or consequences."
G/O Media may get a commission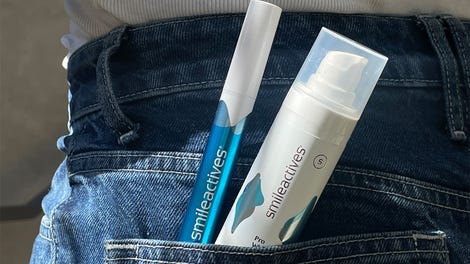 58% off
Whitening Powerhouse Pen & Gel Duo
The woman, who filed as a Jane Doe, said that she was "drugged and abducted" before being raped when she attended an off-campus party in February 2015. The party was hosted at a local residence referred to in the lawsuit as "The Rugby House," but the lawsuit says that the man accused of her sexual assault was not a rugby player and the party was not officially sanctioned or supervised by the rugby team or Baylor's athletic department. (Rugby is a club sport at its highest level at Baylor.)

Doe called her mother the next day to tell her about the sexual assault, and her mother immediately called the office of the university's Title IX coordinator. Three weeks later, the student met with the coordinator, Patty Crawford, and a Title IX investigator, Ian McRary, to talk about the assault. She was told that she was the sixth woman to come forward with rape allegations from a party at The Rugby House.
Soon after the meeting, McRary sent her a "no-contact directive" with the name of her accused rapist and instructions on how to avoid him. When she responded that she didn't know the name of the man who had assaulted her and was confused as to how he had been identified, McRary told her that had accidentally sent her information meant for another woman.
The next day, McRary sent her photos of men who could potentially be her assailant. She recognized one and said that she believed he was the man who had raped her. But the university did not take any further action with the case. Per the lawsuit, McRary communicated with her twice in the following week and then never again—first to tell her that there were two more women who had filed sexual assault allegations from the same Rugby House party, and then to ask her if she could identify some more photos and names. Past that, he did not contact her to pursue her case any further.
Doe left Baylor and returned to her home state at the end of the year. Both McRary and Crawford have since resigned.
The initial complaint can be found below: