Lydia Angyiou, a 90-pound woman with some hockey-loving Canuck sons, went toe-to-toe with a bear. Ya get that? The woman wrestled a fucking bear. Some kids were playing street hockey, and they started pointing and screaming about a bear approaching. Lydia told her kids to run, and stepped into the bear's path and got hood with it.
The bear knocked her down, but she was rescued when Champ Kind turned to the rest of the Channel 4 News Team and said, "News Team... let's hunt," at which point Brick, Brian, and Champ hopped into the bear pit, rode the furry tractors, and rescued their hero.*
Lydia escaped with just some cuts and a black eye. A neighbor of hers actually shot the bear, which is too bad, because the shame of living as the pussy polar bear who got his ass whooped by a 90-pound woman would have probably been a much greater punishment for him.
Off the top of my head, I can think of three people from the world of sports who might one day wrestle a bear:
1) Chuck Wepner, just to entertain himself on a lazy Thursday afternoon.
2) Ron Artest, as part of an unusual training regimen.
3) Anna Benson, if she thought the polar bear was going to have sex with her husband and/or somehow prevent her from making a media appearance.
G/O Media may get a commission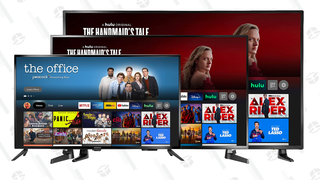 Up to 44% off
Prime Early Access - Insignia Fire TVs
(* I may be confusing this with something else...)
Protective mother wrestles lost polar bear [Toronto Globe and Mail]