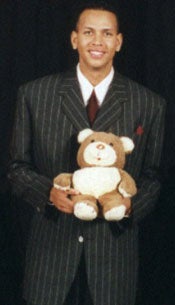 You might think you know Yankees third baseman/perpetual ESPN target Alex Rodriguez, but you don't know him at all. Only through his illustrated children book can you possibly being to understand him.
From today's Publisher's Weekly Children's Newsletter:
Next spring HarperCollins Children's Books will publish a picture book by New York Yankees third baseman Alex Rodriguez. "Out of the Ballpark," which tells about Rodriguez's childhood experiences, will be illustrated by Frank Morrison and published simultaneously in English and Spanish (under the Rayo imprint). The pub date is February 6, 2007. The deal was made with AROD Corporation and Boras Marketing on behalf of the author.
Look, you can already pre-order it! Children, can you say "Booo?" OK, how about "purple lipstick?"
If this doesn't have you appropriately children's book-ed out, we encourage you to read this missive from Alonzo Mourning's teddy bear. Now, don't you feel warm inside?
Out Of The Ballpark

A Letter From Alonzo Mourning's Teddy Bear [The Mighty MJD]