Look, I know we picked the new uniforms already. But I've been giving the matter a lot of thought for the last decade or so, and I've got some thoughts, and now I've got a forum, and I think I deserve a hearing!

Jokic? Embiid? The NBA MVP is obvious... right? | Keep it a Buck(et)
Ideally, we would keep the black stretch-velvet jumpsuits with the sequin detailing on the bust. While they are black stretch-velvet jumpsuits with sequin detailing on the bust, they are perhaps the most widely flattering uniform ever available to the color guard/drill team/flag corps market. Plus, they're warm in the cold weather if the team goes to the playoffs and we have to do the halftime show in November.
But they're not available anymore. So here we are.
Let's go ahead and rule out all the sequined no-pants bodysuits. You know: the ones without the pants. They look great on dance teams and baton twirlers, but again, there's always the chance we'll get stuck doing the halftime show in 40-degree weather and it's already bad enough tossing a stock rifle in frigid weather without the wind whipping at your bare legs.
G/O Media may get a commission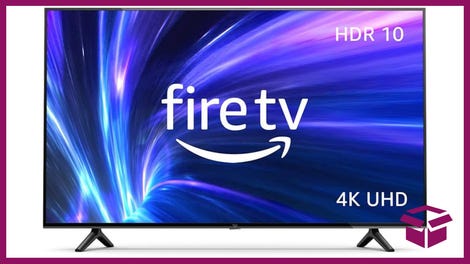 42% Off
Amazon Fire TV 50" 4K Smart TV
If we opt for a midriff-baring style, I'm out. No way, no how. And that's OK, if that's the decision of the color guard as a body: more Friday nights I can spend watching costume dramas and/or eating at the Waffle House.
We can't go long-sleeved, because football season begins in September, it's middle Georgia, the average high temp will still be nearly 90, and we will literally die of heat stroke.

This is also an argument against many of the two-piece tunic styles, with some hip-length top layered over a pair of black flare pants. If we wear two layers of velour or really any synthetics at all, again, we will die of heat stroke. Plus jumpsuits are a cleaner look. Also: this is a style that will make me, personally, look shorter and wider than I am.
I am opposed.

Please let's not get so theatrical here, either. These uniforms have to prove their aesthetic worth as long as the black stretch-velvet jumpsuits with the sequin detailing on the bust did, and those went all the way back to the first Bush administration. There's no longevity in "sassy mime."

That leaves three options. I shouldn't even have to tell you which one to pick.

Obviously, we go with the stylized flames. Because flames are fucking hardcore.

Now, I have some thoughts about our flag choices. You might want to pull up a chair; this will take a while.
Uniform photos via Band Shoppe, DeMoulin, Algy, A Wish Come True.