The Knicks and the Kings played last night at Madison Square Garden, and at least for those of us who live in New York, it was a far more entertaining spectacle than the shit-ass game between the Giants and Steelers that it overlapped with for most of the early evening. The Knicks were victorious and currently have a winning record on the season—a fact that is personally offensive to me. But the most interesting part of the game was, as it frequently is, DeMarcus Cousins.
Jokic? Embiid? The NBA MVP is obvious... right? | Keep it a Buck(et)
In a game that was more ragged than its 106-98 final tally might indicate, Boogie put up a stat line that appears dominant: 36 points, 12 rebounds, four assists, three steals. He made 14 of 16 free throws and shot 4-10 from three, and it all sounds great as long as you ignore the part where he shot 9-30 from the field in total. Simple math tells us that deducting his three point attempts means Cousins made just 5 of his 20 two-point shots, which is obviously incredibly bad. It was as perfect an encapsulation of the Cousins enigma as you're likely to find this season.
Mostly, I will try and remember just the good stuff. Cousins frequently pulls off things that no man of his size should be able to, and he did not hesitate to awe the crowd yesterday. In the first quarter he made several remarkable plays seem easy. First, he stripped Kristaps Porzingis at the three-point line, saved the ball from going out of bounds, then got it back on the fast break and finished fluidly, like a slashing wing player:
G/O Media may get a commission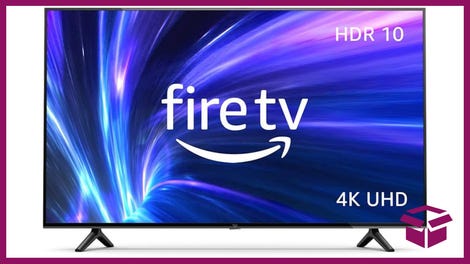 42% Off
Amazon Fire TV 50" 4K Smart TV
About a minute later he got the ball at the top of the arc, pump faked, drove past Joakim Noah, jumped in the air, and whipped a pass around Porzingis to Arron Afflalo for a wide open corner three.
This is LeBron-esque stuff, and it's a reminder that Cousins still has so much potential that he will eventually be worth the headache for some team, somewhere. That sort of playmaking combined with his improving three-point shooting and typical unstoppable low-post bullyball means that there are whole swaths of games where Cousins looks like some unholy combination of James, Chris Bosh, and Shaq. Cousins made a career-high 70 threes on 33 percent shooting last season, and he's on pace to blow past both of those numbers this year. He's now made 36 in 20 games on 38 percent shooting, and as these back-to-back bombs from last night show, his threes look butter-smooth even when he has a hand in his face.
Unfortunately, it wasn't all basketball futurism from Boogie yesterday. Cousins helped bring the Kings back from a 20-point deficit, but he was particularly wretched in the fourth quarter. He shot 2-10 from the field and spent much of the period trying to take Joakim Noah off the dribble, which resulted in a flurry of coughed-up dribbles and ghastly possessions. I can't you show any clips because people on YouTube generally don't upload bad plays, but trust me that it was only fun to watch from a purely theoretical standpoint, and if you had no rooting interest in the game. He also then maybe saw Matt Barnes choke a woman at a Manhattan club and also maybe was caught on camera saying he punched a man himself.
Like I said—let's remember the good stuff.