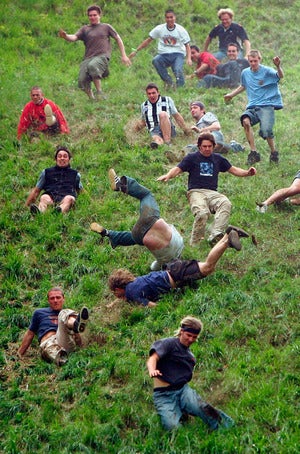 As if you didn't know, the New Zealand Cheese-Rolling Championship was Tuesday, with Gore's Tom Mackay claiming the title. For those not "with cheese," the object of the event is to hurtle down a steep incline with 10 or 15 other participants in pursuit of a large wheel of one of the town's finest cheesy comestibles. Not only did Mackay win the most heats, but he also claimed style points by yelling "AS ... YOU ... WIIISSSHHHHH!" From Stuff.co.nz:
For others there was a degree of nostalgia. David Lee is formerly of Gloucester, the home of cheese-rolling.
Of course in England, the injuries are not limited to the participants. From Doctor of Danger:
One year a spectator caught the round of cheese in his head and sent him tumbling down the hill where he received treatment from the paramedics.
The terrorists have always hated England for their cheese sports.
But if the guy had died, we would have liked to have seen the headline the next day. "Local Man Unable to Avoid Flying Cheese." Or "Gloucester Resident Felled By Gorgonzola."
Cheese Rolling Champs Prove Popular [Stuff.co.nz]
Cheese Rolling [Doctor of Danger]