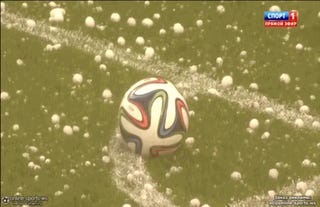 An international friendly between Belgium and Tunisia was stopped in the first half because golf-ball sized hail stones were raining down on the players. The hail became unmanageable at around the 24 minute mark, with the match still scoreless, and play was halted for approximately 40 minutes. As you can imagine it produced some striking images (and sounds).
First, here's video, including some portions with microphones placed on the pitch.
And here's some images, from The Associated Press:
The game did resume and Belgium won 1-0 on a goal in the 88th minute. Tunisia did not qualify for the World Cup, but Belgium will play neighboring Algeria in group play on June 17th.
You can see more images from the game here.