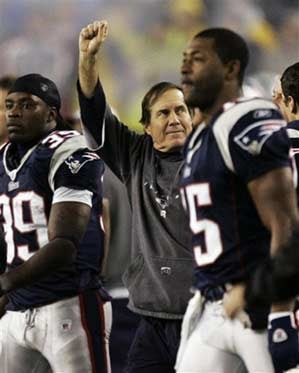 Tiny tidbits and news niblets from Week 16 of the NFL ...
• You want to know the real genius of Bill Belichick? (Other than that hair.) It's that he has somehow made his team's games boring at the very moment we should be reveling in their streak toward history. The last two Patriots have been mostly uninspiring slogs ... and he seems to have designed it that way. Fortunately, the season finale will be on the NFL Network, so no one will have to watch it.
• We're not going to get into the Packers-Bears game yet ... because we're still too stunned. Such honor to be bestowed in this game ... it's getting its own post later, because someone totally deserves it.
• What a novel concept: When the Giants don't count on Eli Manning to do anything, they win. It's a shame, though; we had been secretly rooting for a Giants collapse. It's hard to turn down yearly collapses from a New York sports team; people completely lose their minds.
• Not a good day for Derek "Horse Balls" Anderson; we're begging them to win this week, because we'd so rather see the Browns in the playoffs than the Titans. No chance for a home game, sadly. If the Browns end up missing the playoffs, do they keep Anderson around for next year, or do they suck it up and do the Quinn handoff? Brady Quinn danceparty, everybody!
• Jamarcus Russell fever, like catch it ... like you can.
• We haven't checked with Drew today ... but we can't imagine Vikings fans are doing backflips. That potential Washington-Seattle first round game seems awfully scary for a Seahawks fan. And if they won that — if they make it, of course — we could have a Redskins-Cowboys playoff game. Excellent.
• We suppose we should be displeased that Arizona won yesterday; it could hurt the draft pick business. But we go through this every year, and we always root for the Buzzsaw late, long after they've been eliminated from the playoffs. (By the way, that 49ers game officially cost them a spot. Grr.) But the Buzzsaw can be at .500 for the first time in nearly a decade with a win next week. Baby steps.