Arsenal 1, Aston Villa 1 — When you get right down to brass tacks, Arsenal scored two goals, while Villa couldn't even get one. That sounds about right. Now, the story of who kicked whose ball into whose net shouldn't matter. The fact that the team in red scored on each side of the pitch was symmetrical enough to allow a point for each team.
Phillipe Senderos scored an own goal in the 28th while Niklas Bendtner's tying goal came at the last possible minute. But the upsets today didn't come at the tippy top of the standings...
Manchester United 3, Fulham 0 — ...nor at the second spot. A field goal by Owen Hargreaves enabled Man-U to shave two points off Arsenal's league lead.
Chelsea 4, West Ham 0 — I guess when a team is out to prove something, a decisive four-goal victory isn't such a bad thing to accomplish. And if someone fancies to get a red card, it's probably best to do so after the first three goals have been scored, much like Frank Lampard did in the 35th minute.
Birmingham 4, Tottenham 1 — Relegate them, will you? Mikael Forssell netted a nifty hat trick against the Spurs as Birmingham is trying to scamper away from one of those relegation spots. The win helps, unfortunately...
G/O Media may get a commission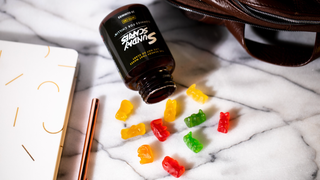 10mg CBD Gummies (22-Count)
Reading 1, Middlesbrough 0 — ... the Royals are equally shocking as they score a 90th minute goal on the road, maintaining keeping one point between themselves and Birmingham for that last relegation spot. This match also featured nine yellow cards, which just seems excessive. [Witty remark about soccer]