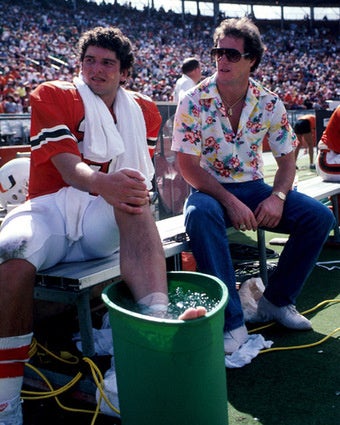 So, former Cleveland Browns QB Bernie Kosar got pulled over by the law a couple weeks back. He apparently struck a cop's motorcycle while U-Turning his Range Rover.
Commentary on The Traffic Stop video centers on how cool YouTube is, and how great it is to be white. Whoever vouched for Caucasianism piped down when some black guys arrived in the frame. There's also a way-homer about Bernie sharing a cell with Bubba.
The rest of the 2:09 is dedicated to slurry laughing. Ahem, Carl Monday.
Here's the Municipal Court summary of the case against Kosar Jr., Bernard J. He's already paid the fees for making a restricted U-Turn and failure to control.
Fun fact: His home address is listed as being in Hollywood, Fla., which means he ostensibly left the South Beach region to hit a cop in LeBron's old town. Hurricanes, represent.
Bernie Kosar Definitely Maybe Hit a Cop's Motorcycle, Got a Ticket [Cleveland Scene]