I've made no secret of my affection for Andre Berto, perhaps now you know why. The 24 year-old welterweight put the boxing world on notice, announcing his presence in the upper tier of the sport's best division. Berto earned the vacant WBC belt with a dazzling knockout performance against an admittedly mediocre Miki Rodriguez.
Berto dominated without having to throw punches in volume thanks to his unbelievable athleticism. He avoided trouble with blazing speed while putting his punches together whenever an opportunity arose. The best example of which was the sixth round that Berto ended with an unprecedented five hook combination, surely the first I've seen.
Rodriguez went down for the first time in the seventh after Berto threw an overhand right followed up by his favorite punch, the right uppercut. The pairing of the two punches elicited shock from observers and the victim alike. The new title holder sealed his victory with another knockdown followed by a wise stoppage. Berto is by no means Floyd Mayweather, but he certainly looks worthy of his belt.
• Chazz Witherspoon is always referred to as a "cerebral boxer" because he took up the sport as a hobby while on academic scholarship at St. Joseph's, so even he must know that he was a beaten fighter. Chris Arreola, the undefeated knockout artist, put Witherspoon on the canvas twice in the third round with powerful looping shots, including once at the very end of the round. From there things got confusing. Witherspoon's corner entered the ring before the referee could signal the continuation of the fight after the standing eight count. Although he was officially disqualified, Witherspoon was basically out on his feet.
As for the referee...good lord. The second I saw Randy Phillips in the introductions I knew we were in trouble. He came off poorly during the disqualification decision, and much much worse in the post-fight interview. As Flubby put it, "I think they just grabbed some yokel in the stands at the dog track in West Memphis, Arkansas." Yep, and that's coming from a Kentuckian. Oh, and next time could we get somebody who is physically capable of getting in between two heavyweights for a break?
G/O Media may get a commission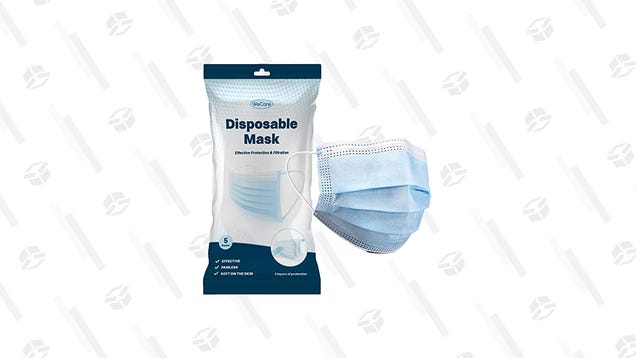 WeCare Disposable Masks With Elastic Earloops- 5 Pack
• Amir Khan added another knockout to his growing resume, although he tasted the canvas in the process. The undefeated 21 year-old has certainly looked better, but his career is progressing as well as expected.
Image via HBO Boxing.