Welcome to Better Know An Umpire, an effort to educate ourselves on the human elements who have ultimate decision-making power over some 2,500 Major League Baseball games a year. (All cumulative statistics are through the 2011 season, unless otherwise stated.)
Name: Alfonso Marquez (a.k.a. Fonzie)
Uniform number: 72
Age: 40
Height/weight: 5-foot-11, 200 pounds
First year as MLB umpire: 1999
Total MLB games worked through 2011: 1,520 (home plate: 381)
Previous experience: Arizona Fall League, Arizona Instructional League, Northwest League, Midwest League, California League, Southern League, Pacific Coast League
Career ejections: 42
No-hitters called: None
Over/under record (1999-2011): 139-167
Hated in: Toronto, St. Louis
Notable alleged blown calls: Blue Jays-Phillies, July 2, 2011; Rays-Twins, July 1, 2010.
G/O Media may get a commission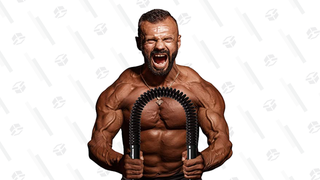 10% off
Zenooze Boa Power Twister
Claims to fame: Did not eject Tigers pitcher Kenny Rogers for apparently having pine tar on his pitching hand during Game 2 of the 2006 World Series. Marquez was also the home plate umpire the day Pedro Martinez knocked Don Zimmer to the ground during Game 3 of the 2003 ALCS.
Scouting report from Major League Umpires' Performance, 2007-2010, by Andy Goldblatt:
Marquez has a significantly smaller than average strike zone. ... Going by K/BB, only five umpires have a smaller strike zone. ... Among the younger crop of umpires, Marquez ranks among the more feisty. His career ejection rate is 2.7 percent, some 20 percent higher than the norm.
Scouting report from an angry blog commenter:
And while I try to never get too hostile, Alfonso Marquez can eat my asshole. I should only be so lucky if I could suck at my job as much as he does and still get paid. What a fucking clown.
Average K/9 (2011): 14.3
Average BB/9 (2011): 6.5
Sample PITCHf/x strike zone: July 2, 2011. Marquez ejected Toronto reliever Jon Rauch and manager John Farrell late in the game after some close calls. The data shows that Blue Jays pitchers were getting squeezed most of the night.
True facts: Is the first Mexican-born umpire in Major League Baseball history. Marquez was inducted into the Mexican Baseball Hall of Fame in 2001. Also, in 2008, Marquez led all MLB umpires in "squats" with 11,254.
On umpiring: "It's in our blood, because who likes to be screamed at to be told things? You love it or leave it. Many of us realize, This is not for me, but those who lead do so because it's in their blood. It's because they really love it."
Strike 3 call:
To check out other installments of Better Know An Umpire, click here.