Welcome to Better Know An Umpire, an effort to educate ourselves on the human elements who have ultimate decision-making power over some 2,500 Major League Baseball games a year. (All cumulative statistics are through the 2011 season, unless otherwise stated.)
Name: Doug Eddings
Uniform number: 88
Age: 43
Height/weight: 6 feet, 200 pounds
First year as MLB umpire: 1998
Total MLB games worked through 2011: 1,708 (home plate: 435)
Previous experience: Arizona League, Florida State League, Eastern League, Texas League, International League, Pacific Coast League, Dominican League, Venezuelan League
Career ejections: 61
No-hitters called: None
Over/under record (1999-2011): 138-205
Hated in: Anaheim
Notable alleged blown calls: Angels-White Sox, October 12, 2005 (Game 2, ALCS);
Claim to fame: Called Cal Ripken Jr.'s final Major League game on October 6, 2001.
G/O Media may get a commission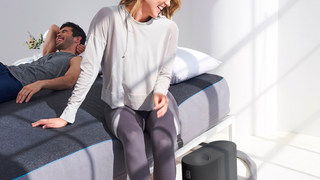 Eight Sleep Pod Cover
Scouting report from Major League Umpires' Performance, 2007-2010, by Andy Goldblatt:
Do you think walks are annoying? Then Doug Eddings should be your favorite umpire. ... [He] has the biggest strike zone of any major league umpire. ... Eddings has a fast thumb. His 3.8 percent career ejection rate is well above the major league average of 2.2 percent.
Scouting report from DougEddingsIsADouche.blogspot.com:
He simply doesn't want to officiate the game, he wants to be the game. It's my opinion that he watched Naked Gun too much as a kid. It inspired him that the fat man with the pad could really save the Queen from a gun-toting Reggie Jackson and change the course of a game.

In politics thats called activist judges. The games should be decided by the players on the field, with guidance from those officiating. It shouldn't come down to rest on the shoulders of a douche bag.
Average K/9 (2011): 15.2
Average BB/9 (2011): 5.8
Sample PITCHf/x strike zone: September 4, 2010. Atlanta's Chipper Jones, though injured and out for the year, was ejected from the dugout for complaining about Eddings' strike zone.
True fact: Is the owner of Ump 88 Irish Grill in Las Cruces, New Mexico. Here's a recent Yelp review:
Not really an Irish Pub, and not really any good food, or fresh food. Go for a beer, I wouldn't eat here. Tried it twice and both times the food was frozen warmed up, or just plain cheap put together slop. Don't waste your time or money. Sorry.
On umpiring:
I've had people in America threaten to kick my butt. But in the Dominican, I ejected this one player in four straight games. This was in 1994. So, after the game, we're at a taco stand, and the player I'd ejected drove up in a car with some buddies. Then, he pulled up a shirt and had a pistol in his belt. But nothing ever came of it. I've never been scared or intimidated on the field. And I didn't pick this job to be well-liked or popular.
Strike 3 call:
To check out other installments of Better Know An Umpire, click here.