Welcome to Better Know An Umpire, an effort to educate ourselves on the human elements who have ultimate decision-making power over some 2,500 Major League Baseball games a year.
Name: Jeff Kellogg
Uniform number: 8 (crew chief)
Age: 50
Height/weight: 6 feet, 205 pounds
First year as MLB umpire: 1991
Total MLB games worked through 2011: 2,455 (home plate: 620)
Previous experience: Appalachian League, Midwest League, Eastern League, Triple-A Alliance, Florida Instructional League, International League
Career ejections: 33
No-hitters called: Two
Over/under record (1999-2011): 201-214
Hated in: Arizona
Notable alleged blown calls: Brewers-Diamondbacks, October 7, 2011 (Game 5, NLDS); Phillies-Rays, October 27, 2008 (Game 5, World Series); Cubs-Marlins, September 26, 2007
G/O Media may get a commission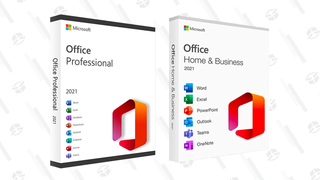 89% off
Microsoft Office Professional 2021 Lifetime License
Claim to fame: Was working home plate on June 5, 2008, the day Boston's Coco Crisp charged Tampa Bay pitcher James Shields, igniting a 15-minute brawl at Fenway Park. Kellogg ejected Crisp, Shields, and Rays outfielder Jonny Gomes.
Scouting report from Major League Umpires' Performance, 2007-2010, by Andy Goldblatt:
He solidly favors hitters, even though in 2010 he joined the major league trend toward pitchers. ... Though his K/9 has been going up each year, it remains consistently below average, with a cumulative score four percent below the norm. This gives him one of the smallest strike zones in the major leagues.
Scouting report from an Internet message board:
fuck you with a hot branding iron kellogg...call it both fucking ways...
Average K/9 (2010): 14.13
Average BB/9 (2010): 6.02
Sample PITCHf/x strike zone: July 10, 2010. Red Sox manager Terry Francona and outfielder Mike Cameron were ejected for arguing the strike zone. (Called strikes against Red Sox hitters are shown as red squares.)
True fact: Played himself in the 2001 Jessica Biel baseball movie Summer Catch, alongside Hank Aaron, Ken Griffey Jr., Pat Burrell, and Doug Glanville.
Strike 3 call:
To check out other installments of Better Know An Umpire, click here.