Welcome to Better Know An Umpire, an effort to educate ourselves on the human elements who have ultimate decision-making power over some 2,500 Major League Baseball games a year. (All cumulative statistics are through the 2011 season, unless otherwise stated.)
Name: Jim Joyce
Uniform number: 66 (interim crew chief, replacing the injured John Hirschbeck)
Age: 56
Height/weight: 6 feet, 190 pounds
First year as MLB umpire: 1987
Total MLB games worked through 2011: 2,722 (home plate: 689)
Previous experience: Midwest League, Florida Instructional League, Texas League, Pacific Coast League, International League, Dominican League
Career ejections: 66
No-hitters called: None (Umpired second base during Dallas Braden's perfect game a month before the Galarraga game.)
G/O Media may get a commission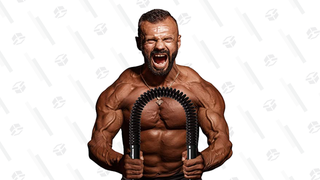 10% off
Zenooze Boa Power Twister
Over/under record (1999-2011): 158-166
Hated in: Detroit
Notable alleged blown calls: Tigers-Indians, June 2, 2010.
Claim to fame: For his emotional and public apology following the Galarraga game.
Scouting report from Major League Umpires' Performance, 2007-2010, by Andy Goldblatt:
A reluctant strike caller. ... The only good news for pitchers when he's behind the plate is that his R/9 is neutral. Hitters may have less plate to defend when Joyce is calling balls and strikes, but they're not capitalizing on it. ... Joyce's career ejection rate is slightly higher than average, but since 2005 his ejection rate has been below one percent.
Scouting report from an angry blog commenter:
This is a fucking travesty, but i hate to say it, that in no way shape or form will he be awarded the perfect game..
Fuck that ump and his handle bar mustache
Average K/9 (2011): 14.0
Average BB/9 (2011): 6.1
Sample PITCHf/x strike zone: May 23, 2011. Cardinals manager Tony La Russa was ejected for arguing a called third strike on Albert Pujols. As PITCHf/x shows, Joyce's strike zone was fairly consistent throughout the game for both sides, and the widest called strikes were actually thrown by St. Louis.
True fact: Was named the second-best umpire in baseball by the players in both 2003 and 2006. (Also, his hobbies include reading, art and "Christmas lighting.")
On blowing the Galarraga call:
No, I did not get the call correct. I kicked the shit out of it. I had a great angle, a great position, I just missed the damn call. This isn't a call. This is a history call. And I kicked the shit out of it. And I took a perfect game away from that kid who worked his ass off all night.
Strike 3 call:
Puppy photo via
To check out other installments of Better Know An Umpire, click here.