Welcome to Better Know An Umpire, an effort to educate ourselves on the human elements who have ultimate decision-making power over some 2,500 Major League Baseball games a year. (All cumulative statistics are through the 2011 season, unless otherwise stated.)
Name: Larry Vanover
Uniform number: 27
Age: 56
Height/weight: 5-foot-11, 210 pounds
First year as MLB umpire: 1991
Total MLB games worked through 2011: 2,144 (home plate: 537)
Previous experience: South Atlantic League, Midwest League, Southern League, American Association, Pacific Coast League, International League, Venezuelan League
Career ejections: 51
No-hitters called: None
Over/under record (1999-2011): 175-165
Hated in: Boston, San Diego
Notable alleged blown calls: Rays-Red Sox, April 16, 2012 (see below); Padres-Blue Jays, June 14, 2010; Mets-Nationals, April 11, 2012.
G/O Media may get a commission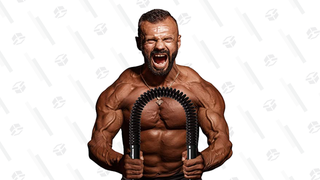 10% off
Zenooze Boa Power Twister
Claim to fame: On August 6, 2006, Vanover's home-plate umpiring so enraged Marlins owner Jeffrey Loria that then-manager Joe Girardi told him to quit his yelling. Loria met with Girardi behind closed doors after the game. Girardi won Manager of the Year but was fired after the season.
Scouting report from Major League Umpires' Performance, 2007-2010, by Andy Goldblatt:
Vanover's numbers do provoke some head-scratching. ... In 2010, his strike zone remained pitcher-friendly, though not as pitcher-friendly as the year before. ... He may be a high strike umpire. In three of the four years under study, his home run rate was higher than average, suggesting pitchers serve up more belt-high offerings than usual when Vanover is behind the plate.
Scouting report from a random Internet commenter:
Wow, fuck THIS UMP FUCK FUCK FUCK FUCK FUCK
Average K/9 (2011): 15.2
Average BB/9 (2011): 6.5
Sample PITCHf/x strike zone: April 16, 2012. Speaks for itself.
True fact: Is a member of the Owensboro (Kentucky) Hall of Fame, along with Johnny Depp, Florence Henderson, and Darrell and Michael Waltrip.
Strike 3 call:
To check out other installments of Better Know An Umpire, click here.