Welcome to Better Know An Umpire, an effort to educate ourselves on the human elements who have ultimate decision-making power over some 2,500 Major League Baseball games a year. (All cumulative statistics are through the 2011 season, unless otherwise stated.)
Name: Ron Kulpa
Uniform number: 46
Age: 43
Height/weight: 6-foot-2, 220 pounds
First year as MLB umpire: 1998
Total MLB games worked through 2011: 1,643 (home plate: 416)
Previous experience: North­west League, Midwest League, Carolina League, Southern League, Texas League, Pacific Coast League
Career ejections: 34
No-hitters called: One (Justin Verlander, 2007)
Over/under record (1999-2011): 167-204
Hated in: San Francisco, northeast Texas
Notable alleged blown call: Rangers-Cardinals, October 22, 2011 (Game 3, World Series).
G/O Media may get a commission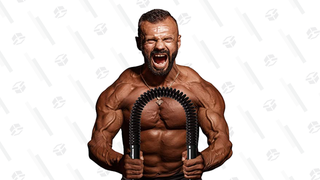 10% off
Zenooze Boa Power Twister
Claim to fame: For so enraging Boston's Carl Everett that the surly outfielder headbutted Kulpa in 2000, resulting in a 10-game suspension. Six years later, Kulpa became the last umpire to ever eject Barry Bonds.
Scouting report from Major League Umpires' Performance, 2007-2010, by Andy Goldblatt:
Overall, Kulpa is very tough on runs, sixth lowest of all umpires who worked 500 or more innings from 2007 through 2010. ... Kulpa's career ejection rate is right at the major league average.
Scouting report from a Cardinals fan blog:
FUCK RON KULPA: Even though Holland did a great job of working the inside corner, home plate umpire Ron Kulpa made it easier with a strike zone that better resembled a zip code. Kulpa was the umpire who botched the call at first base the night before that led to four Cardinals runs. Cards fans were cheering for Kulpa and making excuses for him last night ("we deserve that bad call to make up for '85!"), but tonight they were bellyaching about the terrible strike zone. YOU CAN'T HAVE IT BOTH WAYS, GUYS. For me, I just wish that an umpire wouldn't have such an effect on such an important Series, and Kulpa's fingerprints are, unfortunately, all over this showdown.
Average K/9 (2011): 14.6
Average BB/9 (2011): 6.2
Sample PITCHf/x strike zone: October 23, 2011. Cardinals fans were not happy with Kulpa's strike zone during Game 4 of the World Series.
True fact: Kulpa, a native of St. Louis, called balls and strikes for both the last game at old Busch Stadium (2005) and the first game at New Busch (2006).
On umpiring:
I love the game, and I had a chance to be drafted while in college but that didn't happen. After I wasn't drafted my dad said, 'What about umpire school?' so I went and applied. They accepted me, and I spent six years umping in the minor leagues. ... I think I have the best job in the world, I really do.
Strike 3 call:
To check out other installments of Better Know An Umpire, click here.