Welcome to Better Know An Umpire, an effort to educate ourselves on the human elements who have ultimate decision-making power over some 2,500 Major League Baseball games a year. (All cumulative statistics are through the 2011 season, unless otherwise stated.)
Name: Scott Barry
Uniform number: 87
Age: 35
Height/weight: 5-foot-11, 195 pounds
First year as MLB umpire: 2006
Total MLB games worked through 2011: 618 (home plate: 146)
Previous experience: Appalachian League, South Atlantic League, Midwest League, Carolina League, Arizona Instructional League, Eastern League, Arizona Fall League, International League
Career ejections: Six
No-hitters called: None
Over/under record (2006-2011): 57-46
Hated in: Philadelphia
Notable alleged blown calls: Braves-Nationals, August 18, 2010; Indians-White Sox, August 16, 2011; Orioles-Rays, April 1, 2011.
G/O Media may get a commission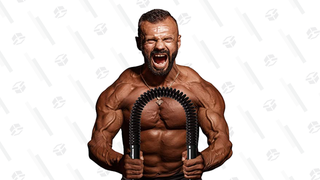 10% off
Zenooze Boa Power Twister
Claim to fame: For publicly mocking Phillies slugger Ryan Howard during a 2010 game.
Scouting report from Major League Umpires' Performance, 2007-2010, by Andy Goldblatt:
Overall he has the ninth highest BB/9 and the ninth lowest K/9 ... His cumulative K/BB of 1.94 is fifth lowest of all umpires. That puts him solidly in the hitters camp, which is also reflected in his four-year R/9 of 9.79, five percent higher than average. ... Barry has a slow fuse.
Scouting report from an angry Phillies fan:
It would be sad if that ump and is family suddenly went missing... I mean i would be happy, but thats because im a terrible person. I hope that fuck head gets his ass beaten or takes an unfortunate foul ball to the forehead and has to learn how to walk and take a shit again
Average K/9 (2011): 14.9
Average BB/9 (2011): 6.0
Sample PITCHf/x strike zone: May 2, 2011. Angels pitcher Jered Weaver became increasingly upset with Barry's tight strike zone during a 9-5 loss to Boston. But as PITCHf/x shows, Weaver got the benefit of more calls, especially outside to left-handed Red Sox batters.
True fact: Graduated in 1999 with a degree in Secondary Education from Olivet College in Michigan, where he played baseball, football, basketball, and golf.
Strike 3 call:
To check out other installments of Better Know An Umpire, click here.