Welcome to Better Know An Umpire, an effort to educate ourselves on the human elements who have ultimate decision-making power over some 2,500 Major League Baseball games a year. (All cumulative statistics are through the 2011 season, unless otherwise stated.)
Name: Tim Timmons
Uniform number: 95
Age: 44
Height/weight: 6 feet, 190 pounds
First year as MLB umpire: 1999
Total MLB games worked through 2011: 1,640 (home plate: 411)
Previous experience: New York-Penn League, South Atlantic League, Carolina League, Southern League, International League
Career ejections: 55
No-hitters called: None
Over/under record (1999-2011): 165-194
Hated in: Seattle, Baltimore
Notable alleged blown calls: Angels-Mariners, June 6, 2010; Royals-Orioles, May 17, 2011.
G/O Media may get a commission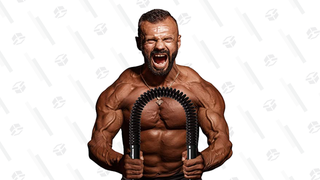 10% off
Zenooze Boa Power Twister
Claim to fame: Helped cofound the Association of Minor League Umpires labor union in 2000 and served as its first president.
Scouting report from Major League Umpires' Performance, 2007-2010, by Andy Goldblatt:
Except for his K/9 totals in 2008 and 2009, Timmons' numbers jump around. They also defy the tendency of small strike zones to correspond with high R/9s and of large strike zones to correspond with low R/9s. ... Timmons' career ejection rate is 3.5 percent, more than 50 percent higher than average, and it shows no sign of following the downward trend of the last few years.
Scouting report from an angry message board commenter:
Once again another umpire who has the bad-cop syndrome

the guy that threw out Z acted like he was confronting a mass murderer...ridiculous...Doug Harvey woulda just given the heave-ho in a funny, folksy manner....yet here u have these young punk umpires who always have to show their authority, as if the ballplayers arent aware they exist...ridiculous

pisses me off everytime I see it

now when he was animated toward the Braves dugout, that was understandable because their whole team was starting to run out onto the field...but to sit here and apparently feel that threatened by Z that he had to yell and be so animated, what a crock...fuck that umpire, whoever it was
Average K/9 (2011): 14.9
Average BB/9 (2011): 6.2
Sample PITCHf/x strike zone: June 6, 2010. Although Timmons ejected both Chone Figgins and manager Don Wakamatsu for arguing a called strike, his strike zone was mostly hitter-friendly throughout the night.
True fact: Refurbishes old Porsches in his spare time.
On umpiring: "You want to be absolutely perfect, and we all know that's impossible. As an umpire, the excitement is when no one notices you."
Strike 3 call:
To check out other installments of Better Know An Umpire, click here.