Welcome to Better Know An Umpire, an effort to educate ourselves on the human elements who have ultimate decision-making power over some 2,500 Major League Baseball games a year. (All cumulative statistics are through the 2011 season, unless otherwise stated.)
Name: Tony Randazzo
Uniform number: 11
Age: 47
Height/weight: 6-foot-2, 225 pounds
First year as MLB umpire: 1999
Total MLB games worked through 2011: 1,489 (home plate: 376)
Previous experience: New York-Penn League, Florida State League, Texas League, Arizona Fall League, American Association, Pacific Coast League
Career ejections: 26
No-hitters called: None
Over/under record (1999-2011): 165-158
Hated in: Denver, Boston
Notable alleged blown calls: Red Sox-A's, June 4, 2011; Cubs-Tigers, June 11, 2012; Yankees-Pirates, June 15, 2005.
G/O Media may get a commission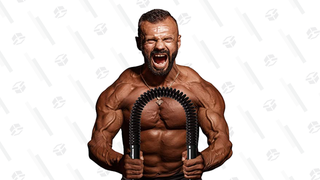 10% off
Zenooze Boa Power Twister
Claim to fame: For getting heckled by Dodgers manager Tommy Lasorda as a minor league umpire in the early '90s.
Scouting report from Major League Umpires' Performance, 2007-2010, by Andy Goldblatt:
There's a considerable gap between what the data suggest about Randazzo and what players and managers say about him. The data suggest he has a very large strike zone tempered by a reluctance to call strike three and is more patient than the average umpire in arguments. Stories from players and managers suggest that Randazzo has a tight, sometimes arbitrary strike zone and an aggressive attitude.
Scouting report from an angry blog commenter:
Tony Randazzo is a dick. Fans don't pay to see umpires, so stay behind the plate and do your GD job. You should be fined and suspended for coming out from behind the plate. You also need glasses. You truly suck, Tony.
Average K/9 (2011): 15.8
Average BB/9 (2011): 6.3
Sample PITCHf/x strike zone: June 4, 2011. The Red Sox were so exasperated by Randazzo's strike zone that closer Jonathan Papelbon was ejected after he threw a called strike.
True fact: Randazzo's father, George, founded the National Italian-American Sports Hall of Fame in Chicago in 1977.
On umpiring:
I love umpiring because it's never the same. Every day is different. I couldn't have a job and sit behind a desk for eight hours. That's just not for me. Every three days I'm in a different city. I've traveled all over the United States and met some great people. Plus, I like the challenge. I want to have a perfect game.
Strike 3 call:
To check out other installments of Better Know An Umpire, click here.