Welcome to Better Know An Umpire, an effort to educate ourselves on the human elements who have ultimate decision-making power over some 2,500 Major League Baseball games a year. (All cumulative statistics are through the 2011 season, unless otherwise stated.)
Name: Wally Bell
Uniform number: 35
Age: 47
Height/weight: 6-foot-2, 240 pounds
First year as MLB umpire: 1992
Total MLB games worked through 2011: 2,492 (home plate: 644)
Previous experience: In­ter­na­tion­al League, Triple-A Alliance, Do­min­i­can Republic League, Southern League, Carolina League, South Atlantic League, New York-Penn League
Career ejections: 40
No-hitters called: None
Over/under record (1999-2011): 167-196
Hated in: Chicago, Boston, Houston
Notable alleged blown calls: White Sox-Indians, August 16, 2011; Astros-Padres, October 3, 1998 (NLDS, Game 3); Red Sox-Yankees, July 4, 2008.
G/O Media may get a commission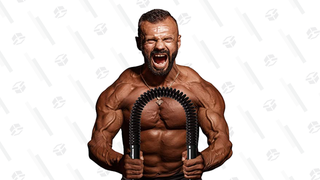 10% off
Zenooze Boa Power Twister
Claim to fame: Worked home plate at Shea Stadium on September 21, 2001, a game remembered for Mike Piazza's dramatic home run and Steve Karsay's subsequent ejection.
Scouting report from Major League Umpires' Performance, 2007-2010, by Andy Goldblatt:
His career ejection rate is 1.6 percent, more than 25 percent lower than average. ... Bell's game-calling stats from 2007 through 2009 were all within one percent of the major league norm ... but given the uncharacteristic nature of his 2010, it would come as no surprise if he shows more generosity to hitters in the future.
Scouting report from a random Internet commenter:
YOU MOTHERFUCKER WALLY BELL BURN IN THE MOST FIERY DEPTHS OF HELL
Average K/9 (2011): 14.4
Average BB/9 (2011): 6.0
Sample PITCHf/x strike zone: September 27, 2011. Bell called balls and strikes the day before the Red Sox capped off their incredible late-season collapse. The Red Sox won 8-7, but it was a stressful night for both clubs, as all the red outside the strike zone indicates.
True fact: Had open-heart surgery in 1999 and now does charity work for the American Heart Association.
On umpiring: "I don't really want to be here at midnight, but that's our job. That's what you do."
Strike 3 call:
To check out other installments of Better Know An Umpire, click here.