On Sunday, Busted Coverage posted screencaps of text messages supposedly between a professional athlete and a college student/Hooters waitress. The story would not have been all that newsworthy had it not been for two factors: The athlete is Robert Griffin III, and the texts were sent on Griffin's wedding day.
Jokic? Embiid? The NBA MVP is obvious... right? | Keep it a Buck(et)
Griffin, one of the NFL's most likable and marketable stars, has until now almost entirely avoided the kind of off-the-field attention that lands athletes on Busted Coverage and, well, here. But the offseason is long, and this latest story feels a little like the ceremonial bell-ringing at the opening of a stock exchange's trading session.
The backstory was fairly public. After the folks at Busted Coverage received iPhone screenshots dated July 6 showing someone listed in contacts as "RGIII" texting and sending a shirtless photo, they tracked down the woman. Her name is Meredith, and she's a VCU student and Redskins fan, and her social media history is filled with mentions of Griffin, as well as an October photo showing two Redskins tickets she claimed (but later denied) he sent her.
An anonymous "Jane Doe" sent along screenshots of Meredith and Griffin using FaceTime video chat on two separate occasions. Joe Kinsey, the editor of Busted Coverage, tells us the Jane Doe sent it in because she didn't want Meredith to profit.
G/O Media may get a commission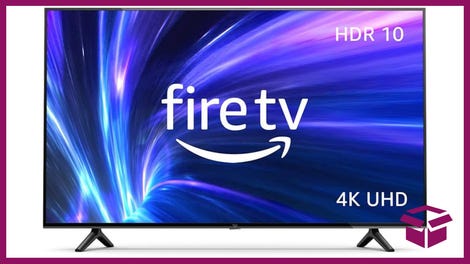 42% Off
Amazon Fire TV 50" 4K Smart TV
When BC's post went up, Meredith contacted the site's editors, asking them to take down the story. In exchange, she offered to sell them "inappropriate pictures," as well as screenshots of chats and texts. As a sample, she sent a photo of a shirtless man she claims is Griffin and promised there are more, including "one with his dick out."
Around the same time, we received an email from someone claiming to be Meredith's ex-boyfriend, offering to sell us "information, text messages, FaceTime screenshots, pictures, you name it, proving that it was indeed him and he's been up to it for some time." He claimed he has text conversations of Griffin trying to get her to meet him in Vegas, and at least one photo of Griffin's penis. In a subsequent email, he wrote, "This is the next Brett Favre story, if not even bigger," and demanded $25,000—or $13,000 more than we paid for the Favre voicemails and photos. (As a handy index to relative sports stardom, the price demands of dick-pic-mongers has replaced the old Beckett price guide.)
The emails from the ex-boyfriend and the ones from Meredith on BC share similarities in the items on offer, even in phrasing, and each sent an identical "sample" photo of a shirtless man with his face blacked out.
We also heard from another reader, who had originally contacted us back in January. He was offering a story about how Griffin had been "catfished" by an older woman posing as a college-age girl. She had supposedly received scores of texts and Facebook messages from Griffin, as well as "dick pics."
We never purchased any of the photos, and neither did Busted Coverage. But all of it is out there in internetland, somewhere, waiting for the highest bidder, and if history is any indication, it'll be popping up before long.
And what about Griffin himself? He was in Europe when the BC story dropped, enjoying his honeymoon: