Glen Davis had the opportunity this season — after the Celtics traded away Kendrick Perkins and while Shaq enjoys a paycheck and a warm seat as he eases into retirement — to earn real minutes and to anchor the second unit. He tried. He averaged about thirty minutes per game during the regular season, along with 12 points and five boards. And then he got to the playoffs, and the man known as Big Baby lost his way. After last night's overtime loss to the Heat, he told reporters that he doesn't "know where Glen is at."
His struggles are a surprise because he has, historically, kind of flourished in postseason play for Boston: Outside of his rookie year, his minutes have jumped considerably in the playoffs. In the 2008-09 season he went from 21.5 minutes per game to to 36.4 in the postseason, and with Perkins struggling through a shoulder injury, he doubled his offensive output — from seven points a game to 15.8. And when he did this in Game 4 against Orlando, he started to look like a player with, if not swagger, then at least a little bit of confidence.
It is now lost, and so is Davis. Now he just looks like a man who has eaten too many powdered donuts. After last night's performance, in which he played 17 minutes off the bench, shot just 1-of-4 from the field and recorded three fouls, he sounds like a man on the verge of an existential crisis — or perhaps like a baby on the verge of discovering his ego.
"I've been nowhere to be found throughout this whole playoffs," Big Baby told reporters last night. "I have to find myself."
He continued, "I have to find Glen, and I don't know where Glen is at. I have no idea who is playing right now."
G/O Media may get a commission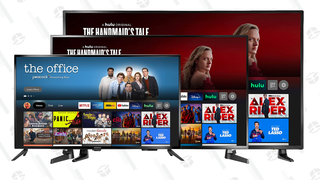 Up to 44% off
Prime Early Access - Insignia Fire TVs
For Glen's sake, we hope he finds Glen before Wednesday.