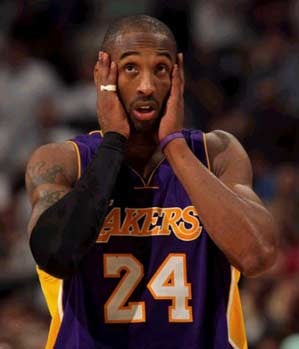 The NBA Closer is written by Kyra Sedgwick ... I mean, Matt McHale, would be pretty happy to see more basketball and fewer promos from TNT, thank you very much. When he's hating on TNT's internal marketing campaign, he can be found skipping to his lou at Basketbawful. Enjoy!
Quitters never win. The Nuggets didn't give up on this game — they actually fought tooth and nail to the bitter end — but that didn't change the end result: The Lakers completed their four-game sweep with a 107-101 win.
Kobe Bryant continued to be a Rubik's cube that George Karl and his Nugget squad couldn't figure out: Mamba scored 31 points — 14 in the final five and a half minutes — to slam the coffin door shut on Denver's season. Which of course caused Luke Walton to follow in his father's hyperbolic footsteps.
Said Walton: "He is unbelievable. It's always so comforting knowing you have the best closer in basketball. They were making huge plays down the stretch, but Kobe came right back to do whatever it took: Huge plays, steals or an incredible shot like that fadeaway over Kenyon Martin from the top of the key. He wanted it badly tonight and we followed his lead."
Huh. And here I thought Kyra Sedgwick was the best closer in basketball. Wait ... what?! Damn you TNT! Sorry. Anyway, Pau Gasol (21 points, 7 rebounds, 4 assists), Lamar Odom (14 points, 12 rebounds, 4 assists) and Vladimir Radmanovic (12 points, 6 rebounds) all contributed to the Laker cause. J.R. Smith led the Nuggets with 26 points. Allen Iverson and Carmelo Anthony added 22 and 21 points, respectively, but they combined to shoot only 18-for-42.
Still, the Nuggets gave it their all on both ends for once, leading coach Karl to start talking nonsense after the game. "My wish would be that we had four games like tonight and we all could have been happier. I've said all along, when we play the right way, they're fun guys to coach." Well as long as you're having fun, George, that's all that matters. I guess.
What in the wide wide world of sports is going on here?! This was supposed to be a sweep, or at the very most a five-game series ... and most people made that concession only after the Hawks had won Game 3. But the birds of prey did it again, beating Boston 97-92 to tie their first-round series with the Celtics at 2-2. In other news, down is the new up, hot is the new cold, and dogs and cats are now living together.
The Celtics (66-16) had almost 30 more regular-season wins than the Hawks (37-45), and Boston even swept Atlanta in the teams' season series. But Joe Johnson (35 points, 6 assists) and Josh Smith (28 points, 7 blocked shots) took a huge, steaming dump on Celtic Pride ... beating the champs-in-waiting almost by themselves. And fans of the Green Team are left wondering: What happened to the Green Team's all-out defensive persona?
Said Sam Cassell: "We've got to find ourselves real quick. We've got to find out team identity, our team chemistry, we've got to find all that real quick."
That identity was in place to start the game, as the C's raced out to a 16-3 lead. But Smith ignited his team with two huge fouls blocks on Rajon Rondo, and from that point on the game turned into a rugby match that favored Atlanta and frustrated the Celtics. So much so, in fact, that Kevin Garnett (20 points, 9 rebounds, 6 steals) threw an elbow at Zaza Pachulia, who proved "you don't throw an elbow at Zaza!" by getting in KG's face and even bumping foreheads with him.
Said the Pach-man: "We all know he's a great player. He's done a lot of good things for the league. He's a future Hall of Famer. But it doesn't matter when we're on the court. I don't take anything from anybody. The message was, 'We're right here. Even if we lose, it's not going to be easy.'"
Zaza was so fired up that he went on to score zero points, grab 2 rebounds, and commit 3 fouls in 10 minutes of "action." But it didn't matter. Nor did the fact that the Hawks got a sum total of 4 points from their bench. Ray Allen led Boston in scoring with 21, Paul Pierce added 18, and Rondo had 14 points and 12 assists, but the Celtics' poor shooting (41 percent) and the 33-18 free throw discrepancy did them in.
But I promise you things will be vastly different in Boston on Wednesday night.
Extinct. Maybe we should change Dwight Howard's nickname from Superman to the Dinosaur Hunter? He had his third 20-20 game of the series — 21 points and 21 rebounds — and the Orlando Magic eliminated the Toronto Raptors from the playoffs with a 102-92 win.
Once the playoffs began, Stan Van Gundy could tell that Howard had come to chew bubblegum and kick ass ... and he was all out of bubblegum. "There was a different demeanor from him. Dwight is a fun-loving guy and he likes to fool around. There are a lot of times during the year where I've got to try to bring him back to being serious when we're preparing. I did not have to say one word, from the start of preparation for this series all the way through."
Jameer Nelson scored 19 points, Rashard Lewis had 18 points and 13 rebounds, and Hedo "Mr. Most Improved" Turkoglu almost had a triple-double with 12 points, 8 rebounds and 9 assists. The Magic were shooting cross-eyed from beyond the arc for most of the night, but Keith Bogans and Nelson both hit a three during an 8-0 run in the closing minutes that helped the Magic run away with the game.
Chris Bosh finished with 16 points and 9 rebounds, but Howard got in his grill and forced him into 7-for-19 shooting. T.J. Ford (14 points, 5 assists, 4 turnovers), Carlos Delfino (14 points, 7 rebounds) and Jose Calderon (12 points, 4 assists) did what they could ... but Orlando was, simply put, the better team.