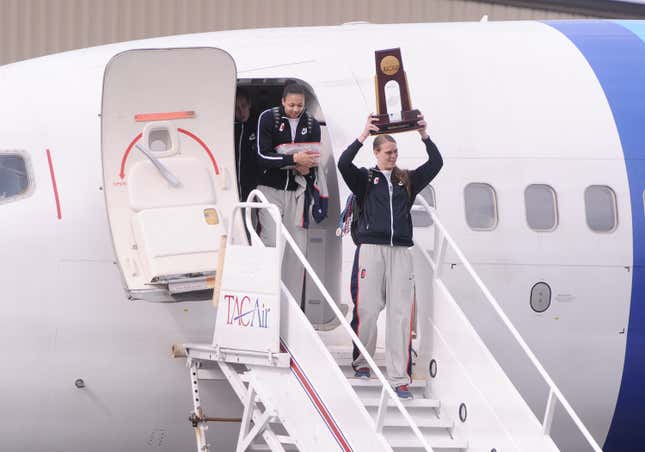 Soon, Big Ten teams from the Midwest and East Coast will have a "West Coast road trip," like they do in the pros, and vice versa. But unlike professional athletes, these players won't be getting compensated for their "jobs," and some of them will be on commercial airplanes as they fly across the country to entertain the public while "working" for their "employers." NIL deals aren't the answer, but they can help. This is why Big Ten athletes should be doing everything they can to snag a deal with an airline.

Did Deion Sanders and Colorado deliver the biggest upset of CFB Week 1? | Agree to Disagree
With the announcement that Washington and Oregon are joining the Big Ten after USC and UCLA made similar moves last year, it now means that California, Oregon, Washington, Nebraska, Minnesota, Iowa, Wisconsin, Illinois, Indiana, Michigan, Ohio, Pennsylvania, Maryland, and New Jersey comprise a conference that's supposed to represent the Midwest.

Screw regional rivals, there's money to be made.

"We are excited to welcome the University of Oregon and the University of Washington to the Big Ten Conference," Big Ten commissioner Tony Petitti said in a statement. "We look forward to building long-lasting relationships with the universities, administrators and staff, student-athletes, coaches and fans. Both institutions feature a combination of academic and athletic excellence that will prove a great fit for our future."
Outside of the universities and TV networks, the other winners in conference expansion have always been airlines. Rutgers now has to send its rowing team to California and Washington for a match that no one is ever going to pay to see. And since cross-country airfare will be the norm in the Big Ten — and other conferences as expansion and realignment are due to hit the ACC soon, and continue in the BIG 12 and SEC — athletes should find a way to profit off it, as some have already.

Last year, former USC wide receiver Jordan Addison signed a NIL deal with United Airlines. It was part of the company's college football campaign that featured flights for some of last season's bigger games like Alabama at Texas, Tennessee at LSU, Penn State at Michigan, and Clemson at Notre Dame. "College football fans love following their team on the road and this year we're making it easier than ever," Michael Weeks, managing director of domestic schedule development and publication at United said in a statement. "We're flying nonstop to some of the most historic football towns in the country, including South Bend, Columbus, and Baton Rouge, and also significantly expanding our service on the west coast to help more Pac-12 fans travel to cheer on their teams."

https://www.instagram.com/addisonnn/?utm_source=ig_embed&ig_rid=b429e609-68f7-4590-8b36-a2eea8ad605a
Just last month, reigning Heisman Trophy winner and USC quarterback Caleb Williams announced his deal with the same airline, as 127 new flight plans were created to help college football fans get to games.

Delta, Southwest, American, and JetBlue — what's the holdup?

In July, Sens. Tommy Tuberville and Joe Manchin introduced the Pass Act of 2023, a so-called "bipartisan" piece of federal legislation to regulate NIL — it's not the answer, as it would prevent the possibility of revenue sharing between athletes and programs in the future. That's a key part given that the Big Ten has added four teams in two years due largely to their new seven-year, $7 billion media rights deal.

NIL regulation is destined to happen at some point. Rich people who made billions off the backs of unpaid teenagers are irate that their workforce are now thousandaires. But until then, every college athlete should be trying to get as much as they can as quickly as they can. And if you play in the Big Ten, researching which airline might want to throw some cash at a "student-athlete" should be your new major.