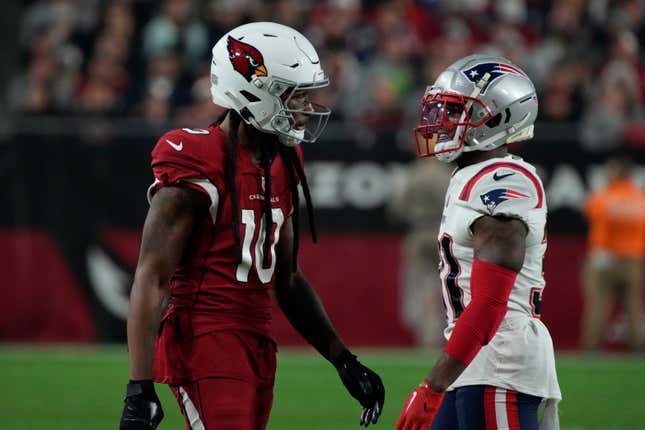 Once again, Bill Belichick is shopping for No. 1 wide receivers at Ross. Which is not to say that it's impossible to find good clothing there. Customers simply have to be willing to pour through the racks and try on a lot of clothing— especially tops — if they want to find a Randy Moss at 60 percent off. Belichick is reportedly waiting out the rest of the NFL on DeAndre Hopkins, in his latest sift through the racks for a position in which the New England Patriots can't seem to find the right fit.
Has Bill Belichick lost his touch? | Agree to Disagree
The Arizona Cardinals released Hopkins in May after they couldn't find a trade partner for him. That nearly $30 million cap hit was far too much for them to swallow. Especially, when he has played in 19 games over the past two seasons, and hasn't totaled 10 or more touchdown receptions since 2018.

Hopkins missed seven games for the Cardinals in 2021, first with a hamstring injury, and was placed on injured reserve that December with a torn MCL. In 2022 he missed the first six games of the year for testing positive for a performance-enhancing substance that he claims he took by accident. He also sat out the final two weeks with a knee injury, and the Cardinals were reportedly not happy he did that.

One month after his release, with all offseason workouts and minicamps completed, Hopkins is still not on a roster. Sports Illustrated's Albert Breer reported on Monday that the Cleveland Browns are not actively pursuing reuniting Hopkins with Deshaun Watson. A pairing that resulted in three consecutive first-team All-Pro appearances for Hopkins. ESPN's Sal Paolantonio reported that the Patriots appeared to be the favorite to land him, with the Browns and Carolina Panthers in the shadows.
Hopkins did visit with the Patriots in mid-June. While he left without a contract, according to ESPN's Mike Reiss and NFL Network's Jason McCourty — a former Patriot himself — both reported that players on the team believed that the visit went well.

Belichick has failed in all of his efforts to land a top pass-catching option since Rob Gronkowski retired the first time. The Patriots drafted N'Keal Harry at the end of the first round of the 2019 NFL Draft ahead of A.J. Brown, Deebo Samuel, and Terry McLaurin. In 2021 they brought in Nelson Agholor and Jonnu Smith. In 2022 the Patriots acquired DeVante Parker and Hunter Henry.

No one has made the Pro Bowl for the Patriots as a wide receiver since Wes Welker. They paid nearly $70 million for a collection of talent over the last two years that has made zero Pro Bowls. The Patriots' best pass catcher has been undrafted free agent Jakobi Meyers who signed with the Las Vegas Raiders in March.

Belichick made the mistake of shopping in the display section at Ross instead of the parallel racks and overspent. He would be going back to that same section if wants to sign Hopkins, and is hoping that this time he finds a discounted Ralph Lauren shirt.

Hopkins has been linked to teams all offseason. The Athletic's Jeff Zrebiec reported that the Baltimore Ravens backed off of the idea of trading for him before the draft. The Kansas City Chiefs were pursuing Hopkins hard, but after Odell Beckham Jr. signed for $15 million per year with the Ravens they got cold feet. Hopkins also met with the Tennessee Titans in June. They are still interested, but when ESPN's Jeremy Fowler reported on a Sunday edition of Sportscenter which team Hopkins had a mutual interest with, it was the Patriots.

A typical Belichick move. He avoided the big names in last year's wide receiver frenzy, and this year he is trying to pick up a player who was considered the best in the league a few seasons ago. It could be considered slick if he hadn't already burnt up so much money on players who were underwhelming in their play.

Belichick has chosen his store of choice. You won't find him shopping on Melrose, Fifth Avenue, or The Magnificent Mile. When he wants a pass catcher he heads right for the department store with the big blue sign. Belichick is trying to make his offense look sharp for less money.