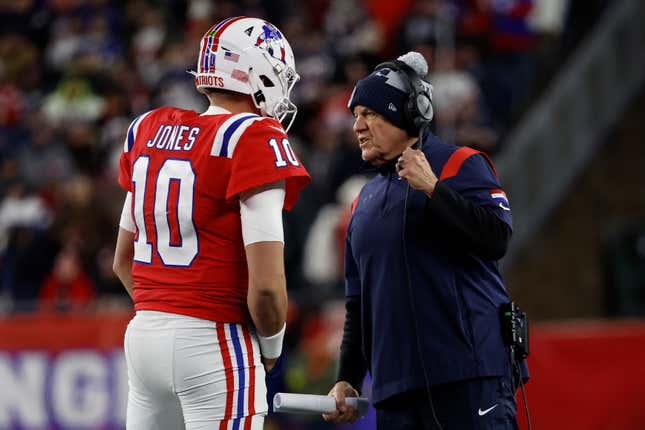 Bill Belichick must have forgotten that he is not the only football luminary who has been Mac Jones' head coach. Jones played college football for Nick Saban — arguably Belichick's greatest student. Remember, "One band, one sound," from the movie Drumline? That line is Alabama football. Every person thoroughly rehearses a role so that when the whole team comes together on Saturday, they all play and move as one unit.
Is Bill Belichick past his prime? | Agree to Disagree
Jones worked in that type of environment for four years, so in a new one, he is going to notice disorganization — a word that aptly describes the 2022 Patriots' offense. Longtime offensive coordinator Josh McDaniels left to be the head coach of the Las Vegas Raiders. To replace him, Belichick let Joe Judge and Matt Patricia run the offense. Neither had previous experience as an offensive coordinator or quarterbacks coach. Jones was so frustrated during the 2022 season that he reportedly reached out to his college offensive coordinator, Steve Sarkisian, for help.
That move infuriated Belichick, and NBC Sports Boston's Tom E. Curran is reporting that Belichick is still highly upset. Pro Football Talk's Mike Florio is reporting that Belichick took a look into trading Jones.

"Disloyalty in Bill's mind is almost worse than bad play," Curran said last week on WEEI's Jones and Mego show.
That is rich coming from Mr. "On to Cincinnati." Yes, Jones going outside of the team for help, specifically to a college coach, could be seen as showing up the current Patriots' coaching staff. However, if Jones did that he did so for a reason. Something was amiss in the quarterback room in New England and went elsewhere for better answers. His goal was to become a better football player, so went back to his previous home where he experienced greater structure than his current one.

If Belichick is truly all about the work. If improving steadily every single day is his life ethos, then Jones pulling out all of the stops to try and save a season in which his performance was regressing at a rapid rate should have been complimented. Instead, it appears that face that barely moves is a mask that hides the ego that has been reported on in recent years.

Jones comes from the best structure that there is in college football. That organization was led by someone who Belichick knows personally. Because of that background, even though Jones is young he noticed that he wasn't getting the answers he needed from the Patriots.

It pissed Belichick off probably because it pointed out early the mistake that he made in giving two of his friends a job who did not deserve it. A mistake that he was forced to correct by firing Judge and hiring Bill O'Brien from Alabama to be his offensive coordinator.

This is what happens when people believe that the band is all about their own drum. Anyone who challenges people for acting in such a way is considered a traitor instead of someone trying to improve the band.

Belichick wouldn't want a player who has never been challenged, and coached by yes-men his entire life. Yet in the later years of his coaching career, he appears more concerned with preserving his authority than what is best for his team.

One band, one sound Bill. If you lose that, you'll continue to lose to Cincinnati and others.