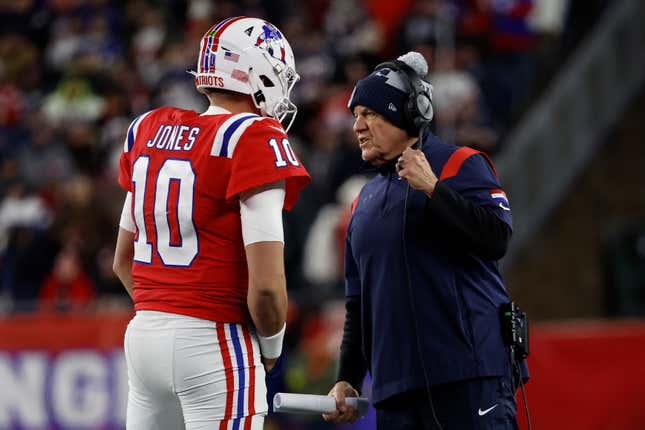 Bill Belichick on the hot seat sounds like sci-fi fiction, but according to the Boston Globe, Robert Kraft might be losing his patience. There are truths, lies, and somewhere in between that sandwich are juicy, salacious rumors.
Has Bill Belichick lost his touch? | Agree to Disagree
All of this speculation about Belichick's job security was ratcheted up by Boston Globe NFL insider Ben Volin's observations about Pats owner Robert Kraft and his tight bond with the franchise's starting quarterback Mac Jones. Jones reportedly has the backing of Kraft, which is somewhat meaningful because Belichick and Jones reportedly were at odds last season. Jones received an invite to Kraft's Hamptons party while Belichick doesn't appear sold on Jones. For a brief period, Bailey Zappe looked ready to steal Jones' starting spot, before that sand castle came crashing down. Jones also reportedly pissed off Belichick by seeking outside counsel for the offense's struggle while Patricia was in charge. Jones is a smooth operator to get in close with the owner, but no self-respecting owner is splitting up with one of the greatest coaches in football history for some midsize sedan of a quarterback.

The embattled Belichick is a vintage who needs some tuning up, but he's not a jalopy. The Patriots finishing last in the entire division for the first time in 24 years isn't out of the question. But that's because of Jones' status in a division where they're encircled by Tua Tagovailoa, Josh Allen, and Aaron Rodgers, not in spite of Belichick. Jones gets a pass for his abhorrent play in 2022, but there's no other way to describe him. He'll need a short memory to forget the pitiful butter knife of a passing attack they stabbed at opposing defenses throughout his sophomore slump. For the 2023 campaign, Belichick has punted on the Matt Patricia reclamation project and replaced him with returning offensive coordinator, Bill O'Brien.

There have been reports that rising tension has created an awkward mood between Kraft and Belichick, which sounds like the rumors that Belichick and Tom Brady had a growing rift in 2019. After two decades of living at the apex, you can understand why plateauing as an average team would bother Kraft.

"Robert Kraft already made it clear in March that he wants the Patriots to make the postseason and win a playoff game for the first time in five years," Volin wrote for The Globe. "He also paid Jerod Mayo handsomely to keep him off the coaching market and likely views him as the team's coach-in-waiting. And Belichick's friends have privately said they are worried that he is on the hot seat in 2023."
Kraft giving The Hoodie a pink slip when he's 30 wins from eclipsing Don Shula atop the NFL's all-time coaching wins list would be a colossal mistake. On the other hand, he's also 14 games from surpassing Dan Reeves for most losses. Kraft would be wise to stick with Belichick. He's still a defensive genius and once they sort out their quarterback famine, could be right back on track. The NBA's San Antonio Spurs stuck with Gregg Popovich through the dark times and they're on the verge of emerging from the volcanic ashes Kawhi Leonard's exit left behind.

What should be more concerning to New England is Belichick reportedly getting more jittery than a traumatized quarterback suddenly hearing footsteps and seeing ghosts from a clean pocket. Jerod Mayo is a fine defensive coordinator, but Belichick's assistants have a choppy track record. Josh McDaniels is stuck in his second tire fire with Vegas, while Romeo Crenell, Charlie Weis, Eric Mangini, Brian Flores, Joe Judge, O'Brien, and Patricia were all fired for producing lackluster results. O'Brien is the only one who had a .500 record or better. Let some other coach take a gamble on Mayo or O'Brien.

The only thing funnier would be if Kraft followed through and brought in long-time Patriots assistant Brian Daboll to succeed Belichick. Sorry, that was a mistake, I meant Brian Flores, who spent 13 years on the Pats staff between 2004 and 2018. Flores finished one game under .500 after two seasons, but had the Dolphins on the right track with a young roster before he was unnecessarily discharged after his second season.

On that note, rumors relying on "Belichick friends" as sources feel like a stretch. The bigger reveal here is that Belichick has friends who he'd confide in. I just assumed he was either A.I. or had a trusty dog and 71 years of suppressed emotions.

Coming from Volin, this story rings a little hollow as well. A few months ago, Volin breached the trust of New Englanders when he shared info during a segment on WEEI from a source who "would know," which implied that Jones had an attitude problem. It turns out that the source was a Foxboro employee who DMed a fabricated scoop to Volin just to see if he'd use it.

The FOMO by giving up on Belichick too soon is enough to give Kraft pause. Belichick is still a rare genius and those aren't easy to find.

---
Follow DJ Dunson on Twitter: @cerebralsportex