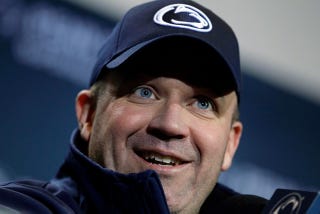 Looks like Bill O'Brien isn't going anywhere after all. Mere minutes after Sports Illustrated's Pete Thamel dropped a nice little scoop that school officials would be putting forth an extra push to keep O'Brien at the school (and that he was strongly considering doing so), CBS Sports' Jason La Canfora (who kind of started this whole ruckus anyway) dropped this bombshell just a few minutes ago:
To be sure, O'Brien is undoubtedly leaving millions on the table by spurning the NFL's overtures, but he is obviously beloved by the Penn State community for how he's helped keep the program moving through tough times. Regardless, the rebuilding and healing continues in Happy Valley, and the fans and players now know who'll be at the helm for another such season.
UPDATE: In an interview with PennLive's David Jones, O'Brien has confirmed that he's staying.
In an exclusive conversation with me, the second-year head coach confirmed that he was contacted and entertained overtures from multiple NFL clubs through his agent Joe Linta. But he has decided to remain at PSU for at least the 2013 season.

"I'm not a one-and-done guy," said O'Brien. "I made a commitment to these players at Penn State and that's what I am going to do. I'm not gonna cut and run after one year, that's for sure."