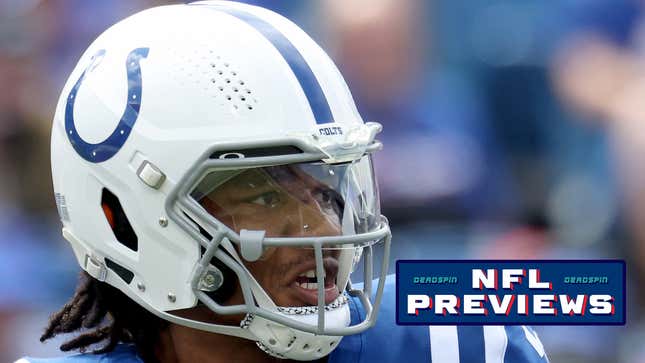 Minshew on Aaron Rodgers' level? Really? | Stats That Will Blow Your Mind
If things go as planned, 13 Black quarterbacks could be starting for their teams in Week 1 of the 2023 season — which would be an NFL record. There's always been strength in numbers. But when it comes to more Black men playing the most popular position in American sports, it's always smart to be cognizant of how strong their grip on the position actually is.
 This is America, where the backup quarterback is the most popular guy in town — especially when he's white and the starter is Black.
Anthony Richardson is the man for the Indianapolis Colts. He's been named the starter and Peyton Manning is "pulling for him hard." But how is a franchise setting up a young and talented — but raw — quarterback up for success by being on the precipice of getting rid of the one thing he'll need the most, a dependable running back?
On Monday, the Colts granted permission to All-Pro running back Jonathan Taylor to seek a trade. The franchise that was temporarily led last season by a guy who came straight from the airwaves of ESPN has found itself in yet another head-scratching conundrum.
Zach Wilson is a prime example of how quickly a franchise and a fan base can turn on a young quarterback that was a top-five pick. And while Aaron Rodgers won't be the answer if things go sideways for Richardson, he should be aware that the rest of the QB room in Indianapolis is white.
But while Richardson could be in a peculiar place this season with the Colts, it's nothing like what is almost destined to happen in Green Bay if things don't pan out for Jordan Love — a man who has the worst job in sports.
It's hard enough being a Black quarterback in the NFL. It's even harder being the guy who comes behind Brett Favre and Aaron Rodgers — two of the ten greatest quarterbacks of all time. 1991 was the last time Favre or Rodgers wasn't on the Packers roster — seven years before Love was born.
The reports are saying Love is "definitely ready" for Week 1, and Rich Eisen is "ready for Jordan Love to be really freakin' good." But if he isn't, we're going to get a very clear reminder of how "short of a leash" Black quarterbacks are on, in a place like Wisconsin when they don't have a resume like Patrick Mahomes.
I would have added Lamar Jackson's name next to Mahomes' but I haven't forgotten how he was treated by the Ravens, despite them signing him to a five-year, $260 million deal. Baltimore lowballed Jackson last August, followed that up by tabling contracts talks during the 2022 season, and used the non-exclusive tag on him in March — forcing him to use social media to tell us he had requested a trade — before finally getting the deal done in May.
Only a Black quarterback with a unanimous MVP has to deal with that.
And while it's easy to look at the Ravens as a bastion of diversity and equality because they have an entirely Black depth chart at the quarterback position, and have Black men serving as their quarterbacks coach and the assistant quarterbacks coach, this is the same franchise that used to be led by Ozzie Newsome.
Back in 2019, Newsome had just finished his last season as the General Manager in Baltimore but was still working in the front office. That June, he was in Atlanta speaking at the inaugural QB Coaching summit that the NFL and the Black College Football Hall of Fame had put together. And in a room full of media and young Black coaches, one of the few Black GMs in NFL history publicly stated that he had no idea that Black coaches wanted to coach offense.
"This book and these names will go back to Baltimore," he said as he held up a program that included all of the attendees. "I didn't know that it was this many African-Americans that were involved in coaching quarterbacks, and offensive coordinators on the college level. Now I do, and now I can act on it.
"Now I have me a bible that I can use."
The drama that Jackson endured over the last two years had been foreshadowed in a conference room in Atlanta three years earlier.
For as much advancement as we've seen with the rise of the Black quarterback in the NFL, it has also taken place in an era in which Black head coaches are constantly devalued and overlooked — as one group is getting a chance to succeed while the other one isn't. Quarterbacks of all races understand just how quickly they can be benched. And despite how many Black ones will be starting this season, it's never a guarantee that they'll be the ones finishing it. Quarterback fanfare is a one-way street that can be as short as a driveway when you're Black.