The Clippers successfully traded for Chris Paul yesterday, which was a bit of a shock for basketball fans, because it means that Los Angeles's other NBA team might actually be somewhat relevant this season or next.
But it's an entirely different shock when a trade like this one affects both you and your teammates. A Fox Sports camera crew was actually on hand with a few of the Clippers players yesterday when the trade went through, and they captured the reactions from DeAndre Jordan and Blake Griffin, who were both absolutely giddy at the news. Jordan got a text from his agent—"Great trade"—and called to check in.
"Are you serious?" he says, disbelieving, as hyperactive Griffin gives him a shoulder bump and says, "'bout to be Lob City!" Then, remembering: "Who'd they give up again?"
The Clippers gave up guard Eric Gordon, center Chris Kaman, forward Al-Farouq Aminu, and a 2012 first-round draft pick from Minnesota for Paul.
Somewhere else in town, as Jordan and Griffin ushered the cameras away, Gordon was sitting in a bus with teammates Ryan Gomes, Eric Bledsoe and Willie Warren, two assistant coaches, four season ticket holders, and the Clippers Spirit dance team. They'd just visited patients at the Hollywood Presbyterian Medical Center and were headed to another publicity stop. TrueHoop's Henry Abbott has the story from the bus:
"We found out about five minutes into the drive from the hospital to downtown," Ricky Chu, a 20-year season ticket holder who was on the bus. "We saw on Twitter that the trade went through. Everyone was just looking at their phones and was, like, 'Wow!' Right when we looked up, he got a phone call and you could just tell that's what it was about because you could see his face go really sad. There was no anger about it, but you could tell he was really bummed."

Gordon got off the phone just before the bus arrived at the second stop, an office building that's home to a company that has season tickets to the Clippers. He had a quick, quiet conversation with his teammates in the back. Then the bus pulled into the second location, and everyone rose to get off.
G/O Media may get a commission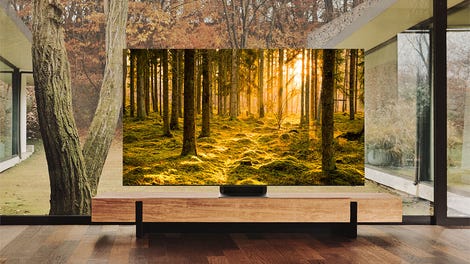 Up to 40% off
Samsung Smart TVs
Chu said that the whole experience was "really awkward" because Gordon was expected to promote the Clippers.
"One minute, he's a part of it. Then all of the sudden in the middle of the event, he finds out he's getting traded."
Kaman, meanwhile, tweeted that "twitter knew about the trade before I did."
It's part of the business, obviously, but it's still strange to hear both sides of the story after a big deal like this one. For those over the shock, though, Lob City T-shirts are already available for purchase.