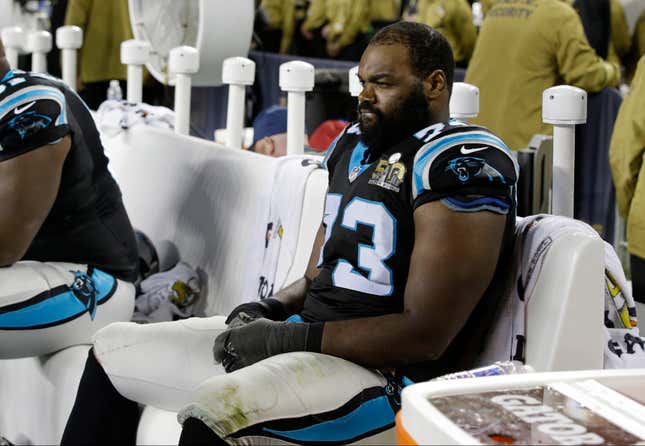 Michael Oher just finished a press tour for his new book. The preface discusses how he became a rarity — a famous offensive lineman — and how the 2009 movie that chronicled his journey to Ole Miss and the NFL, The Blind Side, made him well known beyond football circles. The film dives into Oher's journey from a rough childhood, to becoming an All-American with the help of his adoptive family — namely wealthy, white parents Sean and Leigh Anne Tuohy.

'I was already a success story' says Michael Oher
'I was already a success story' says Michael Oher
The narrative of Oher's life had never been challenged, until the former Baltimore Raven did it himself on Monday, when he reportedly filed a petition with a Tennessee court seeking to end a conservatorship over his finances. The petition alleges that the Tuohys never legally adopted him and that the movie version of his story was a lie made up by the family to make themselves richer off Oher's name.
Being a famous offensive lineman | Michael Oher
Michael Oher claims the Tuohys never adopted him
Instead of legally adopting Oher, the 14-page petition states that, less than three months after Oher turned 18 in 2004, the Tuohys tricked him into making them his conservators. The move is typically reserved for managing the personal and/or financial matters for someone who is of age but incapable of doing so themselves. Oher alleges the Tuohys cashed in on his fame with the power of the conservatorship. Sean and Leigh Anne Tuohy allegedly struck a deal that paid them and their children millions in royalties from The Blind Side, in which Sandra Bullock won the Oscar for Best Actress for her portrayal of Leigh Anne, while the film itself grossed more than $300 million worldwide. The 37-year-old Oher allegedly didn't receive those same royalties, even as the central figure of the movie.
In the decade-plus since the film's release, the Tuohys have continued calling Oher their adopted son and used the claim to further enrich themselves through their Making It Happen Foundation and numerous public appearances. While on his book tour, Oher stopped to talk with Deadspin last week, five days before the petition was filed. While Oher didn't discuss his current relationship with the Tuohys, he did mention them when talking about his upbringing.
"I'm very grateful I had ambition. I had goals," Oher told Deadspin. "It didn't show that in the movie basically when it started. When I moved in with the Tuohy family, who I'm very grateful for, I was an All-American already. I was 18, which from three years old to 18, I went through hell to get to that point. And I was already a success story in my own right. Just making it and accomplishing the things that I was accomplishing, graduating high school, and getting scholarships to college."
The legal filing states Oher found out he wasn't adopted and instead had a conservator relationship this past February. How Oher discovered the alleged difference is unclear. The petition asks a Shelby County, Tennessee court to end the conservatorship as well as issue an injunction, stopping the Tuohys from using Oher's name and likeness for profit, per ESPN. Oher also seeks money from the Tuohys for using his name, alleging the couple began financially benefiting from their relationship with Oher as far back as August 2004. Oher was a rising senior in high school when he signed the conservatorship papers, with Oher claiming the Tuohys described adoption and conservators as the same thing.