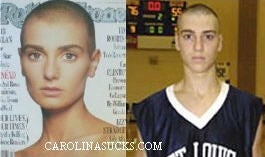 Perhaps nothing says hatred like college athletics. We have witnessed the body painting, we have seen the flaming objects hurled onto the court. Yes, we have seen the pants waving from atop the flag pole. And today, we salute those pants. We believe that college athletics were invented to give students an excuse to taunt each other from short distances. In the computer age, much of this is done on the Internet. So here now are some of the best hater blogs, college edition.
There's not a lot of hate out there for the folks at the University of North Carolina — for most of the country, it would be like hating the The Andy Griffith Show, which was based in North Carolina. But then you realize, hey, Mayberry was close to Raleigh. And that's North Carolina State, and they hate UNC. So go ahead, hate the Tar Heels. For a couple of hours anyway. Here are some sites to help.



3. I Hate North Carolina: And 303 Reasons You Should Too. We're currently combing used book stores for a copy. (The guy from Chapel Hill didn't like it, surprisingly).

2. Slate: Teams We Hate. "And when the buzzer sounds, Roy will be alone, the Winningest Loser of them all."

1. Carolina Sucks. Everything from player rap sheets to the latest on Roy Williams' transgressions. Absolutely devoted to hating the Tar Heels.