Columbus Blue Jackets prospect and former Miami (Ohio) hockey player Carson Meyer might look really tired in the above image from a June 2017 interview, but any visible gauntness might be from the fact that he had a goddamn tapeworm in his body for, according to doctors, a full year.
Meyer's 2017-18 season with the RedHawks was totally derailed because of the parasite, as The Athletic's Aaron Portzline reported in lovely detail. The prospect had no appetite, lost weight, and was falling asleep during drills. Test results couldn't pinpoint it to mononucleosis or something similar. Meyer finally discovered what was draining his energy when he sat on the toilet in February:
"I was going to the bathroom, just like normal," Meyer said. "And it came out."

It was a 25-inch tapeworm — the head, the neck and all of the segments, about 50 of them. It was orange. Meyer almost fainted.

"I Face-timed my mom and was like, 'What the hell is this thing?' " Meyer said. "I was freaking out. Absolutely freaking out."

Holly Meyer said she's never been so horrified, or relieved.

"I was trying to be calm," she said. "He showed me everything and I remember saying, you have to get that to the trainer and figure out what it is so they can get you fixed.

"And I did say at that moment, 'This is why everything has been the way it's been, Carson. This was it.' It was scary, but it was a relief."
Doctors believed Meyer's specific parasite was diphyllobothrium latum, which comes from eating undercooked fish. Though it is a freaky injury, the tapeworm will have some actual effect on his hockey career: Meyer plans to leave Miami (Ohio) and hopes to transfer to Ohio State, but NCAA rules might force him to miss the 2018-19 season unless he can win his petition and push the blame onto his former school for not properly diagnosing the parasite. A missed college season combined with last year's dismal performance would be tough on the prospect's standing with the Blue Jackets, even if it isn't his fault.
For now, though, Meyer's feeling much better. He said he has since lost his appetite for fish and cooks his food more thoroughly. Also, his RedHawks teammates named the tapeworm "Teddy."
G/O Media may get a commission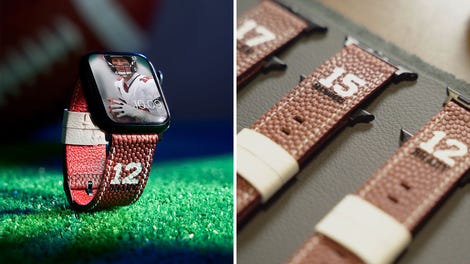 Official NFL PRODUCTS
Official NFL Apple Watch Bands