It is news to me that Jerry Howarth, the radio play-by-play voice of the Blue Jays since 1981, does not use the name "Indians" when calling baseball games out of respect to Native people. But it's not new news—Howarth has observed this practice for more than 20 years.

It'll complicate things for Howarth once Toronto and Cleveland kick off the ALCS on Friday, but he'll manage. As he told The Jeff Blair Show on Sportsnet 590 The Fan (as reported by the Toronto Star), he's been managing ever since receiving a letter from a fan following the 1992 World Series.
The listener was a member of a First Nation and politely told Howard that he found such terms deeply offensive.

"He just wrote it in such a loving, kind way," Howarth said.

"He touched my heart," Howarth said.

Howarth said he made his decision to honour that fan and his culture.

"For the rest of my career I will not say 'Indian' or 'Brave' and if I was in the NFL I would not say 'Redskins,'" Howarth said, referring to the Washington football team.
The imagery surrounding the team is very bad—the redface that shows up occasionally is grotesque, and Chief Wahoo is abominable. The team is clearly phasing out the logo, and while it could be eliminated quickly and completely, this transition is worlds better than stubbornly standing behind it—and, potentially, avoids turning it into a cause célèbre among bad fans.
G/O Media may get a commission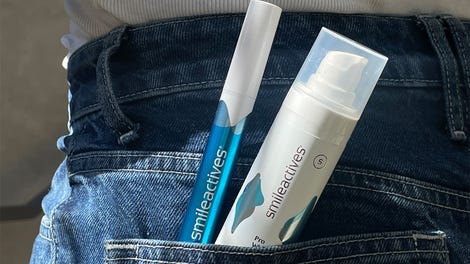 58% off
Whitening Powerhouse Pen & Gel Duo
The word itself, "Indian," makes me pause every time I use it when writing about the team, but I haven't stopped. It's not so obviously a derogatory term like "Redskin"— though it is historically inaccurate and referentially unclear. Still, plenty of indigenous people have reclaimed the word to refer to themselves, either on its own or as "American Indians," and one of the best and largest Native-owned and operated news outlets, Indian Country Today Media Network, certainly doesn't mind the term. I'm torn, is what I'm saying—though it's probably telling I would never use the word in reference to anything but the baseball team.
(It's worth noting that the politics of nomenclature are slightly simpler in Canada, where Howarth is from. "First Nations" came into general usage there in the 1980s, and is much more widely accepted than any single term in use here in the U.S.)
These things get tricky, though. Howarth says he won't say "Braves," which is meant to be a signifier of honor, but can't help but be cultural appropriation. (The tomahawk chop is an embarrassment.) Same goes for Chiefs, I'd suppose.
How about the teams with more specific names? The Chicago Blackhawks are named after a U.S. Army regiment, which itself is named after a Sauk chief—and the team has made an effort to forge connections with Native communities. Same goes for Florida State, which cooperates with the Seminole Tribe of Florida—but can that specific, federally recognized tribe speak for the other Seminole tribes and groups? There are no easy answers to this stuff.
This isn't a shocking conclusion, but it's up to everyone to decide these things for themselves—and if they've got decency, to consider the impact on others. Notice that Howarth never said he's offended by the use of "Indians," only that he doesn't want to offend those who do.