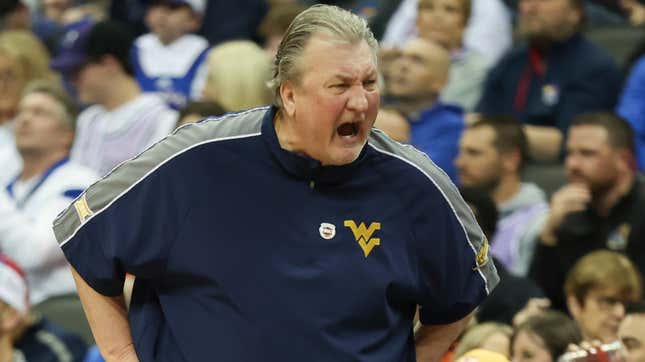 Thank the lord for Bob Huggins. This week — MLB All-Star week — is usually bereft of general sports storylines, and also a warning shot that we're about to enter Little League World Series territory, aka the most mind-numbing stretch on the sports calendar. So, that's why I say thank god for Huggins, who is trying to resurrect his West Virginia contract from the grave/whatever health spa he's holed up at.
Flopping and slurring and gambling, oh my! | Worst of the Week
In a couple of statements released Monday by Huggins or his representation, the pairing said the resignation email sent in Huggins' name was void because it came from the email account of his wife, June Huggins, and contained no signature. The currently ambiguously employed coach voluntarily checked himself into rehab following an arrest for a DUI in June, and he plans to stay there until he is "cleared to return to [his] active coaching duties."
I'm not a doctor, but that doesn't sound like an honest attempt at sobriety, and if only we had access to the communications between Huggins and his counsel that led to this desperate attempt to wring bail money from his surely nullified deal. I'm assuming the contract, which was altered after he dropped a homophobic soundbite during a radio spot in May, has to include a "get off of Huggins" free card written into it, and if it doesn't, the aforementioned alleged DUI probably takes care of it.
"I did not draft or review WVU's statement," Huggins wrote. "This false statement was sent under my name, but no signature is included. ... I am employed by WVU pursuant to an Employment Agreement. I never submitted the notice required under the Employment Agreement to voluntarily resign."
Of course, WVU has no plan to reinstate Huggins, and the university even released a statement further distancing itself from him.
"Moreover, if Mr. Huggins or his counsel attempts to publicly suggest that he somehow did not resign and retire from his position, please be advised that the University will swiftly and aggressively defend itself from these spurious allegations," wrote Stephanie D. Taylor, vice president and general counsel for West Virginia.
You know they're serious when people start using "spurious" in sentences.
Taylor continued, sounding like someone issuing a restraining order.
"In other words, to the extent you are suggesting that the resignation of Mr. Huggins did not strictly and technically comply with the provisions of the Employment Agreement, WVU nonetheless has accepted his unequivocal resignation, and WVU has not and is not requiring a different form of notice under the Employment Agreement," Taylor wrote. "We accepted his resignation in the form requested by counsel to Mr. Huggins. There is no support in the law of on these facts to suggest that Mr. Huggins may now ignore his resignation and his actions upon which all have relied, undo his voluntary separation, and return to work as if none of this ever occurred."
Apparently, Huggy Bear also cleaned out his office. He's trying to George Costanza his way back to work, and I couldn't be more here for it. This isn't the behavior of someone embracing the 12-step program — I believe atonement is one of the initial asks — and I can't wait until some desperate AD talks himself into hiring Huggins again.
Maybe he can replace Rick Pitino at St. John's whenever he gets fired or promoted. We'll see. Huggins has gotta dry out first.