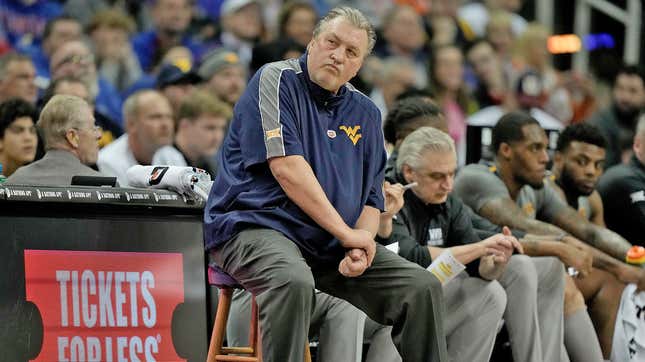 West Virginia University basketball coach Bob Huggins will reportedly keep his job after uttering an anti-gay slur on a Cincinnati radio show. He will instead be penalized in the form of a $1 million reduction in salary, and will need to take sensitivity training.

Flopping and slurring and gambling, oh my! | Worst of the Week
While $1 million may sound like a lot, he will still make $3.2 million this year, which is $3.2 million more than he should make. The decision to fire Huggins should've been a no-brainer and the fact that the administration took two days to arrive at this slap on the wrist is embarrassing.

"The deplorable, mischaracterization, and homophobic slurs directed towards our LGBTQ+ and our Catholic communities were repulsive and offensive," Xavier president Colleen Hanycz said Wednesday.
Over the past couple of days of speculating whether or not Huggins would get fired, I've heard this sentiment come from multiple people: "He should make the situation easy and just resign."

As far as I'm concerned, calling Xavier University fans "Catholic f**s" while knowingly being broadcast on the radio might as well have been his resignation letter. You just can't do that if you're a public figure and expect to keep your job. Bob Huggins knows that. And we know he knows that because in 2020 he had former Cincinnati Reds announcer Thom Brennaman talk to his team about accountability.

Brennaman was notably fired after being caught on a hot mic saying the same slur that Huggins used. His on-air apology, which was interrupted by a "drive into deep left field by Castellanos," remains the funniest thing to ever happen during a baseball game.

Thom Brennaman got canned for the same slur, so why not Huggins?
That was Brennaman's last broadcast, but Huggins has apparently not coached his last game in Morgantown. It's inarguable that what Huggins did was more egregious and made him more deserving of losing his job.

He wasn't caught on a hot mic like Brennaman. He didn't have a slip of the tongue like one could argue happened in other similar instances. He knew exactly what he was saying and he meant it, and even repeated it.

If Huggins had been fired, people would be whining about "Everyone makes mistakes. What about second chances?" This wasn't a mistake. University President Elwood Gordon Gee and Athletic Director Wren Baker aren't giving Huggins a second chance, but rather admitting they're fine with his blatant bigotry.

Huggins released a written apology about an hour after the broadcast, clearly having studied at the Thom Brennaman school of pretending to take accountability for your actions. It was a tremendous change of heart that 69-year-old white millionaires have all the time, and, much like a degree from WVU, isn't worth the paper it's printed on.
Whenever something like this happens, those defending the one in trouble will often say "People can change." Yes, they can, but 99 percent of the time they don't. And it's especially rare that someone would get to as old an age as Huggins, having gone through life with the same beliefs, only to change their mind because of sensitivity training.

There's plenty of moral justification for firing him, but also basketball reasons. He was already incredibly unlikeable and bad for recruiting. Oscar Tshiebwe was the 2022 National Player of the Year at Kentucky after transferring from WVU. Tsheibwe alleged that Huggins threatened to ruin his life and told John Calipari that he was caught smoking weed — allegations the veteran coach denies. (On The Bob Huggins show, the Basketball Hall of Famer said "outside influences" led to Tsheibwe's departure from the program.)
There's plenty of reason to believe this will affect recruiting going forward as well. Creighton coach Greg McDermott made a comment to his team that alluded to slavery which caused top 15 recruit, TyTy Washington, to de-commit.
And can we dissect the phrase that Huggins used? Bigotry against Catholics never fails to surprise me. That's some 1920s discrimination. What's next? Is he going to get mad when an Irish family moves into his neighborhood? As someone who was raised Catholic, I had always assumed that we were kind of the default setting of Christianity — what I now understand to be non-denominational. And then I learned in school that groups like the KKK were anti-Catholic. How racist do you have to be to hate white Christians because they're not the same kind of white Christian that you are?

Huggins is not a victim of cancel culture
Even though Huggins is keeping his job and will make millions this year, people are going to claim that he is a victim of cancel culture. The crowd that complains about people making themselves the victims never fails to make themselves the victims. If that's being canceled, then will someone please cancel me? Everyone who's apparently had their life ruined by the "woke mob" is way better off than I am. I'll be the first in line for sensitivity training if it means I'll get paid $3.2 million to draw plays on a whiteboard.