The Olympics are in full-swing and they're in China, so, you know, it should be a rather fascinating world event, if you're into fascinating world events. And we are proud to welcome back our Deadspin Beijing Bureau, our own trio of correspondents living in China and reporting on everything they see, Olympics related and otherwise. On Saturday and Sunday, the IOC and the Beijing Organizing Committee cancelled their once-daily joint press conference with foreign and local media. This rather flippant decision (relayed to reporters via text message) comes after days of increasingly tense briefings between IOC & BOCOG officials and foreign reporters, who keep on pestering them about protests, human rights, restrictions on journalists, tween gymnasts and China's general disregard of the promises it made to be awarded the Olympics. During Thursday's meeting, a series of heated, often sarcastic exchanges left BOCOG Vice President Wang Wei noticeably flustered and defensive.There are even rumors of a slap fight. Our go-to source for Olympic Press Conference gossip, Ireland's Sunday Business Post, gives an account of the uncomfortable showdown:
One journalist questioned Wang about the detention of protesters. Another demanded to know why reporters were being harassed. A third accused the Chinese authorities of ''lying through their teeth'' and grilled a representative of the International Olympic Committee (IOC) about whether she was ashamed to be working with Wang and his colleagues, as volunteers attempted to wrest back the microphone. Eventually, Wang lost patience. ''There are a few people who have come here to peek, to be critical, to dig into the small details and find fault," he said, a look of exasperation on his face. ''You are supposed to be in China covering the games."
Wang added:
''China has stepped forward, the ordinary Chinese in the street will give the same answer. Do not underestimate the wisdom of the Chinese people," he said to the hectoring foreign reporters as the press conference drew to an embarrassing close. ''Do not think that you are smartest.''
The cancellation of consecutive press briefings at the Olympics might not seem too newsworthy, that is, if newsworthy events weren't happening every few minutes in this town. Over the weekend—but before China's Liu Xiang withdrew from his race on Monday—Michael Phelps won his 8th Olympic Gold, Greek runner Fani Halkia failed a doping test in Japan and the IOC stripped Swedish Greco-Roman wrestler Ara Abrahamian's Bronze medal – the same one he stripped from himself on Friday – and formally expelled him from the Olympic Village. Maybe journalists have questions about these stories? It's not terribly surprising that the public faces of the IOC & BOCOG don't want to be continually embarrassed by hoards of screaming foreign correspondents. Don't get us wrong; we support journalists pressing officials on touchy subjects. That's their job and, when done well, it can be quite effective in influencing social change. The mere fact that these questions are being asked within China represents progress. That said, in the past week and a half a few protests were staged that, in our increasingly less humble opinion, did little to advance any causes. Since the Olympics began we've seen our share of protests in Beijing… on the Internet. The Bureau has yet to bear first-hand witness of a protest here – those "protest parks" we mentioned in an earlier post are conspicuously empty – but we don't seem to be missing out on much. Take this protest on August 9: Five members from Students for a Free Tibet staged a "die-in" in Tiananmen Square in which three foreigners laid on the ground with Tibetan flags draped over them and played dead. A guy shouting chants for Tibetan freedom – in English – led them. Here's an excerpt from a transcript of the protest:
With the world's attention on China, we ask that you please, please free Tibet, that the time is now for a free Tibet, that with the world's attention on China, that we speak out. And as people of conscience, we've traveled here to do so today.
G/O Media may get a commission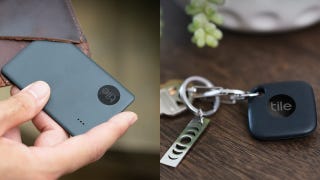 Up to 35% off
Tile Item Trackers
The protesters drew a bit of attention, but seemed to confuse and annoy surrounding Chinese tourists, busy taking in the most iconic site of their homeland's iconic city. At another demonstration on August 13, John Ray, a British reporter from ITN (the British AP, sort of), was detained while trying to cover the story. As the police van drove away from the scene with Ray and all of the captured protesters aboard, the unlucky journalist hung his Olympic press pass outside the window, providing the kind of image to onlookers that we suspect the activists wanted in the first place: one that portrayed the Chinese government as the evil, freedom-hating Empire. Regardless of whatever their aims were, we believe the only changes these demonstrators brought about were their own deportation and inability to ever return to China, which, all in all, is a pretty cool place. It's not their message that we're critical of; it's their means of expressing their message. No, we haven't gone commie; we support the right to protest so please go on ahead and protest away if your heart desires. However, in a country of 1.3 billion people – mostly proud citizens who are quite sensitive to and suspicious of outside criticism – can a small group of foreigners using nothing but awkward confrontation and vague, idealistic arguments be that productive? Moreover, news of these protests will not be disseminated on Chinese airwaves, so spreading their message within China isn't feasible. Western viewers and savvy Chinese netizens will find the stories but these groups are presumably already hip to the situation in Tibet. Perhaps more importantly, these activists distract people from the far more compelling stories that have taken place recently – stories with Chinese citizens at the center of them. However inefficient, protests staged by Chinese citizens are poignant because of the desperation they convey, especially given the certainty of repercussions from the state. A Wall Street Journal video follows a patriotic Chinese youth who is touring Beijing during the Olympics when he comes across a fellow citizen throwing sheets of paper in the air. Though it's unknown what this man is protesting, his desperation is clear. Police officers enter the scene and take the man away as the patriotic subject dismisses the man as a wrong doer. Similarly, the New York Times looked into the stories behind those who attempted to apply for permits in order to demonstrate in what were supposed to be free protest zones during the Olympics. In a cruel turn of fate it turns out that one of our earlier, half-joking predictions were, according to this article, correct. No one has been granted permission to protest in any of the three protest zones, which may well have been set up as a cruel bait-and-catch tactic. One woman applied for protesting privileges and has since been taken away by police. Another man traveled to Beijing in August with bitter persistence and little hope ("I don't care if I die," he is reported as saying), only to have his pleas neglected and his life feared for. The local dissenters of these stories don't go out with a bang – like a rebellious deportation – but with a whimper. The truth is, embattled press secretary Wang Wei is right: China has come a long, long way. And it has a long way left to go. We hate the cliché, but the Olympics are pretty damn symbolic of China's arrival on the world stage. And by putting the country under an international microscope – not subjecting it to foreigners' objections – the Games should also hasten China's social progress. 20 years ago people weren't allowed to move to a new town, or pick their own job. Now they can organize a protest on Twitter to stop a toxic factory from being built. China knew what it was getting into when it begrudgingly invited 20,000 journalists to cover the Olympics and allowed many more potential bloggers and loudmouths (like us!) to come hang out for a month this August. In a way we feel bad for Wang Wei, whose job it is to defend policies he has no say in shaping. We don't doubt that the deported demonstrators are sincere in their desire for the improvement of human rights in Tibet; they are probably nice people. But the way they decided to act smacks of narcissism. The problem is, people may confuse this confrontational approach with a direct way of addressing the issue of Tibetan independence, but when laid bare it's just an attempt to make a sensationalist news peg. Spending three grand – less than the average Tibetan makes in a year – on airfare to come to Tiananmen Square and have water bottles thrown at them by Chinese citizens – who are very proud to have the Olympics, by the way – is insulting to the thousands of dissidents who put their lives on the line for noble causes. The brave kids in Tiananmen were sent home to their developed countries with a cool story: "I took on the Chinese government, man!" The people who actually take on the Chinese government and whose lives are affected by it, well, they often go to jail… In the next post from the Deadspin Beijing Bureau: The Bureau attempts to stage a protest protesting the protest application process. The Deadspin Beijing Bureau can be reached at deadspin.china@gmail.com