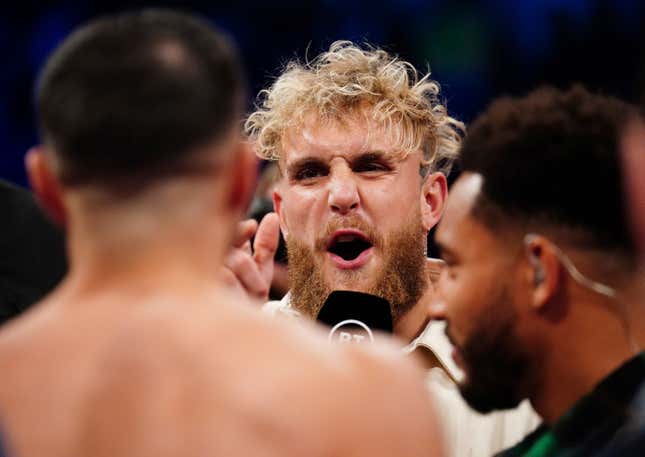 For anyone looking for a good laugh on this Sunday in which the only football on television is of the flag-snatching variety, a Bomani Jones interview with Jake Paul aired this weekend.
When an interview gets testy, it usually comes off one of two ways to the audience. The tension is either so awkward it can make a viewer's skin tighten, or it's high comedy. Jones and Paul's interaction was very much an example of the latter.
The show aired on Friday, but a clip went viral the day before. Jones asks him a question about what happens if Paul loses a fight. Paul's response: "I don't even know who the fuck you are."
His appearance on Game Theory is Paul's second on HBO in less than 12 months. Back in April, Real Sports did a segment on him and his brother. It chronicled the rise, fall, and rise again of the Paul brothers' fame. While rambunctiousness, destruction, and irreverence is their brand of internet success, Jake's brother Logan caused great harm to their brand by showing a dead body from Japan's "Suicide Forest."

The Real Sports piece shows boxing as a redemption story for the Pauls, even if boxing experts don't respect Jake's boxing ability. So when Paul's publicist presented him with another HBO interview, he agreed. After all, he does have a fight to promote. He will finally take on Tommy Fury — Tyson Fury's half-brother and reality TV star — on Feb. 26 in Saudi Arabia. However, Jones was only slightly interested in that. He wanted to dig into a business venture that Paul announced late last summer.
Game Theory's piece on Paul is largely about him getting into sports gambling. He launched his own sports betting app. Joey Levy, Paul's partner, created a micro-betting app while a student at Columbia. It was sold to Boom Fantasy in 2017 as part of a $2 million deal. The two have teamed up to launch a new micro-betting app, Betr.
The problem, micro-betting is one of the most addictive forms of sports gambling because it allows people to bet play-by-play as opposed to simply overall game results. Also, Paul's main audience is young people, many of whom have followed him for years and recently just became old enough to gamble.
Jones has a graduate-level education in economics, so he knows a hustler when he sees one. That's why Paul was upset in the viral clip because just before that moment, Jones took him to task over young people being vulnerable to the pitfalls of his new business.
This part is by far the funniest of the whole interview. When Jones asked the question, Paul accused him of trying to be a "hero" and then tried to play a game of gotcha. Paul alleged that Jones was attempting to pull fast on him, by making him out to be the bad guy. And maybe Jones' guests in the past weren't smart enough to pick up on it.
Jones responded appropriately by bursting out into laughter. He then reiterates his question as Paul mumbles, "that's a fake laugh."
The viral clip picks up shortly after this. If/when you first saw the viral clip, you wondered why Paul would respond so briskly to a question he has surely been asked a version of many times. The answer of course is he was pissed off.
Paul wasn't expecting to be legitimately challenged on his business practices, and then ended up in a battle of words with a person much better equipped for the fight than the people he usually goes up against.
Kind of sounds like how his boxing career would go if he ever took on a real boxer.