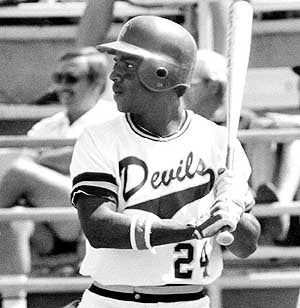 Those were the words that adorned one of the posters that decorated the bedroom wall of my adolescence. Back then Barry Bonds was one of my favorite athletes in the world; now I stare at the Arizona State throwback jersey and think of happier times. Before his head physically swelled and before he wore ten pounds of armor to the plate I really enjoyed cheering for Barry. Back then it didn't bother me the media painted him as a surly and entitled young star, he was simply a joy to watch. Now it's become pretty much impossible to cheer for the guy as he prepares to break Hank Aaron's cherished record. The blast that tied the record came off of a confirmed roider, Clay Hensley.
Oh yeah, the Giants went on to lose the game to the Padres 3-2 when Khalil Greene's walk-off single scored one of those Giles characters.
• He's Been Reading his MachiavelliPrince Fielder's full-body home run swings are a thing of beauty to all but those they victimize. His two-run bomb in the eighth inning gave the Brewers the lead in the eighth inning against the Phillies. Welcome back big leagues Tom Gordon! Corey Hart (sans sunglasses) sealed the Phillies doomed fate in the final frame with a perfectly timed leaping catch to rob Tad Iguchi a would-be game-tying home run.
• Gyro-Ballin'! Will anybody be able to knock off the Red Sox in a playoff series? Given the strength of their pitching it seems unlikely. Dice K picked up his thirteenth win while notching 10 strikeouts in Seattle. Even his old foe Ichiro found himself was floundering at the plate (0-5). After seven innings Dice K handed the ball over to Eric Gagne who picked up his second hold with his new team before turning it over to Papelbon for the save. With Dice K, Beckett, Schilling, and Lester/Wakefield in the rotation and Okajima, Gagne, and Papelbon in the bullpen they should win another title.