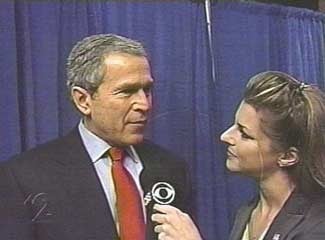 Bonnie Bernstein, everybody's favorite Jersey sideline reporter, has had a relatively quiet couple of years at ESPN. That is, until a couple of days ago, when she made a bit of a verbal misstep on the Mike and Mike show.
Sometimes we wonder if in 25 years we'll have Godwin's Law for inappropriate comments about suicide bombers and/or Osama bin Laden. Bernstein - appropriately! - compared high school basketball stars to Palestinian suicide bombers. Makes sense!
"On the June 25th broadcast of the popular morning sports talk radio show "Mike and Mike", the hosts invited Bonnie Bernstein (also an ESPN reporter) to talk about how basketball players growing up through middle school and high school are programmed to not want to pursue a college career, because they are pursued by everyone and their parents to make millions of dollars instead.

At this point Bernstein decided to drill the point home, she then likened this situation to how Palestinian children are programmed to become suicide bombers, as this is the only life they ever know.

This interview took place around 8.15 AM CST. Mike Golic and Mike Greenberg did not comment and remained silent. Their silence may be interpreted by listeners, at best, as an indication of tolerance, or at worst, as an indication of agreement."
Why do we imagine Greenberg having the same face Mike Myers had when Kanye West made his George Bush comment? Of course, Kanye might have had a small point, and Mike Myers is Canadian. Whatever that means.
Anyway, Bernstein apologized rather quickly, though, oddly, she apologized for bringing politics into a sports discussion rather than for what she actually said. Oh well.
By the way, we enjoyed this angry post, which referred to her as "Dr. Bonnie Bernstein." That's awesome.
(Full disclosure: Bonnie Bernstein, oddly, came to our book party. She was very nice, and was not wearing a head scarf.)