As a firm subscriber to the "do whatever the fuck you want" theory of fandom, I'm never going to get on paying fans for making their displeasure audible. Which isn't to say the sound of Yankee Stadium loudly booing the Yankees late in their wild-card loss to Houston didn't make television viewers very happy.
The boos started in the eighth and continued into the ninth, as it became clear the Yankees weren't going to scratch out any offense against six strong innings from Dallas Keuchel, followed by three no-hit innings from three relievers. Some of the boos were no doubt targeted—Brett Gardner, Jacoby Ellsbury, and Alex Rodriguez have all slumped deeply over the last few months. But Carlos Beltran and Brian McCann heard them too, indicating that this wasn't personal, but reflected a general feeling of a stadium that was drunk, bored, disappointed, and resigned to winter coming early.
Rodriguez claimed he didn't hear the boos—a physical impossibility, given their amplitude.
"Honestly, I didn't hear any boos," said Rodriguez, whose resurgent year ended with an 0-for-4. "I was just trying to get on base, a walk, a base hit, slap the ball to right field. I didn't hear anything, I didn't see anything, overall I can say to the fans, 'Thank you.'"
G/O Media may get a commission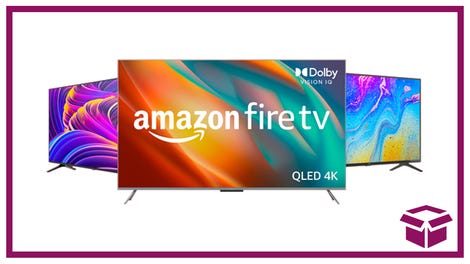 Ooh. stunning.
New Amazon Fire TVs
"I mean, listen, I don't know if they were booing me or booing the team or whatever," the outfielder said. "But they have the right to cheer or boo or whatever they want and be disappointed and frustrated and nobody is more disappointed or frustrated about the way I played than myself and I don't think my teammates would tell you any different.

"We take a lot of pride in what we do out there. We work really hard to go out there and play well and we didn't play well."
The weird thing is, this result was expected. The Astros are a better team than the Yankees. The Yankees' offense isn't great, and hasn't been good for two months. Dallas Keuchel might win the Cy Young.
Even weirder, this season was a relative success. The Yankees weren't supposed to sniff the playoffs; it was supposed to be a rebuilding year, one of several as the Yankees wait out their big contracts and regrow their farm system. Yet New York played 163 meaningful games, way more than anyone had any right to expect. For any other franchise, overachieving to a surprise playoff berth before bowing out to one of the league's emerging powers is something to celebrate, not boo.
But that's the curse of being a fan of a team that's historically been so successful. Your owners will spend every year, and field a halfway competitive team every year, and win at a rate that makes other teams' fans want to throttle you, but it throws the curve for what's acceptable. For a specific type of fan, nothing short of a championship will do, even when there's no way in hell that's a realistic possibility. That's a shitty way to live—what's the point of being a fan at all if you can't find joy in incremental accomplishments?
It's these same fans who will call Mike Francesa today and bemoan Brian Cashman's decision not to trade for David Price, even if it cost them top prospects like Luis Severino and Greg Bird. These Yankees, mediocre as they are, are forward-thinking for the first time in a long while. That's a tough thing to cheer for when you've spent hundreds of bucks to watch your team get shut out in a one-game playoff, but it isn't something to boo.