Put on your long-reading glasses.Today's selection is "Fading Echoes" an amazing true story about football and suburban America and sadness and life written by my fellow La Salle University alum, Mike Sielski. Buy it here. Talk to him below.
Topics for discussion:
• How long have you worked on this story?
• Do you still keep in touch with the family?
• How did CB West become such a football factory?
• Why does La Salle University continue to play in the Big 5?
• Are you surprised by the success of illegal immigrant John Gonzalez at the Inquirer?
For real — it's a great story. It'll make you weepy. Buy 14 copies here.
Wednesday, July 26, 2006

Already he had written his own eulogy, typing it on his laptop in the sure and steady strokes of a Marine who knew, but did not fear, that he might soon die. The speech was a reckoning, an explanation of why he had decided to stop playing football and pursue a cause for which he was willing to sacrifice himself, and after he had finished it, Bryan Buckley kept writing. Five letters followed, each addressed to one of his five closest friends: Corey, Spratty, Ed, Matt, Dave. He wrote more. He provided instructions for his funeral. He did not want to be buried at Arlington National Cemetery. He did not want sadness or despair to mar the day. Go have some beers, he wrote. Laugh about the dumb stuff I've done. He had printed out the letters and the eulogy, stuffed them into an envelope, sealed it, and given it to his brother-in-law Chris DiSciullo during his last visit to Doylestown, Pennsylvania, to the place where he had grown up. Bryan then had asked Chris and his wife, Kim-Bryan's eldest sister-to honor a single request: no one was to open the envelope unless something happened to him during his deployment in Fallujah, during the seven months he was scheduled to spend in the deadliest city in Iraq. These were his most private and personal thoughts and memories. These were his words to the people he loved . . . should he never see them again. He even told Kim that he had marked the envelope with a pen, creating, in effect, a bar code on it. If someone opened the envelope, read its contents, and resealed it before Bryan returned home, he would know.

His father, Bill, did not know that he had done all this, or whom Bryan wanted to deliver the eulogy. His mother, Connie, did. She knew what he had written and whom he had selected as his eulogist. Some things are just easier to tell mothers, and some things are easier to ask of fathers-things such as assembling weaponry, which is what Bill Buckley had been doing during the days before his son's deployment with the 2nd Battalion, 8th Marine Regiment. With much of Bryan's gear strewn about his living room floor, Bill had sat on the couch amid the mess, looping survival cord through the magazines of 5.56-mm ammunition that Bryan would load into his M4 rifle. Having the magazines knotted to his weapon would allow Bryan to keep the bullets closer to his fingertips, reload more quickly, and lessen the chances that he'd be left defenseless in the chaos of a desert firefight.

Bryan's decision to become a Marine had surprised Bill. Sure, as a boy, Bryan was at his dad's knee often, asking questions about Bill's three years with the U.S. Army Security Agency, the electronic intelligence branch that was the antecedent to the National Security Agency. Bill told Bryan what stories he could-so much of his work was still classified-and he taught Bryan to shoot a rifle when the kid was thirteen, taking him up to the hunting and fishing club that Bill belonged to in Pike County, Pennsylvania, near the Pocono Mountains. The kid bagged a deer his first time out. But football had been so integral to Bryan's daily life, particularly when he was playing in high school, for Central Bucks West, that until Bryan announced to his parents that he was giving up football and joining the military, Bill had never stopped to consider his son's future without the sport. Through Bryan's middle school, high school, and college years, there always had been another game to play. Now, here was Bryan, the youngest of Bill and Connie's four children, at twenty-six years old. Soft pink freckles still dotted his face. Splayed along the inside of his left forearm was a striking tattoo: a blue-black trident. At six feet one and 190 pounds, he was leaner and lighter than he had been as a high school or collegiate football player. Most of his light brown hair had been shorn away, and his physical training for the military had shaved away even the slightest bit of excess body fat, like stone from a sculpture, as if the Marines had stripped away all that had been unnecessary about him. Here was Bill Buckley's son, shoving clothes and gear into a duffel bag and a backpack, a lieutenant in the U.S. Marine Corps, 4th Platoon Commander in 2–8's Fox Company. Bill was proud of him. He didn't say so just then. He just kept looping that cord through those magazines.

These last few days-the whole month, actually-had been a swirl for Bill and Connie. On Saturday, the two of them had flown down on one-way tickets from Philadelphia International Airport to Jacksonville, a small city of tattoo parlors, dry-cleaning shops, and Southern fast-food restaurants hard on the southeastern coast of North Carolina. Bryan had bought a house near Jacksonville in December, a tidy two-story single on an isolated cul-de-sac a mile east of Camp Lejeune, the Marine Corps base that had become his office and was the practice field on which he was preparing himself and the forty-five Marines in his platoon for what they would face in Fallujah. Fallujah. Connie still couldn't say for certain how she'd react once it sank in that the youngest of her four children was leaving and might never come home. She and Bill had thrown a going-away party for him on July 1 at their home, with two hundred family members and friends filling the house and spilling over into the backyard to say good-bye to Bryan, no one dwelling on the dark unknown of Bryan's departure. Still, at different times during the day, a few partygoers asked Connie the same question: "How are you going to deal with this?" How the hell did she know? "You have faith in him," she'd tell them, and she'd force a smile and plop a spoonful of potato salad on a guest's plate and return to the party and try not to think about the question then and there. She still had three and a half weeks before he left. She still had time to figure it out.

Now, that time had all but expired. Fox Company's 230 Marines were scheduled to depart Camp Lejeune at midnight, a series of buses shuttling the men forty-five miles to Cherry Point, North Carolina, the largest air station in the corps, and this is how Bill and Connie Buckley were spending their final hours with their son before he boarded one of those buses: they were running an annoying, time-consuming errand on a stinking hot summer day. The temperature was climbing to 90 degrees, the air heavy, and the three of them were driving to a Staples so that Bryan could photocopy a batch of articles and memoranda, a scouting report of the Iraqi insurgency, that he planned to pass out to his platoon. Typical Bryan-he had waited until the last minute to take care of this task. But more than the inefficiency, more than the uncomfortable humidity, what exasperated Bill and Connie was that Bryan paid for the copies-$144 worth-out of his own pocket. "For God's sake, Bryan," Connie said, "can't you do this at the base?" He said no. He wasn't allowed. Worse, he already had dropped close to $700 on various accessories that the government didn't issue to Marines-batteries and cold-weather clothing, for instance. His father, unlike Connie, did not say a word. This was how they always had been, throughout their thirty-three years of marriage. Connie was the firecracker: a redheaded, outgoing woman who spoke in bursts of italics. Bill's dark gray hair was a bit longer than a buzz cut; he wore glasses, loved Elvis Presley's music, and had a more measured temperament. His words and gestures were precise, purposeful. He stood in the store, watching Bryan shell out more of his own money, and though he did not say so at the time, Bill Buckley thought it appalling that the richest country in the world-a country fighting, and laboring to win, a war it had chosen to initiate three years earlier-couldn't afford to make its own photocopies. …

The buses arrived on time, and the Marines filed out of the gym. Those who had family and friends on hand hugged them before climbing into the buses, and Bryan did, too, though on his terms. All of Bryan's life, Connie had called him her "one-armed hugger" because of the way he showed affection-or, more accurately, because of his reluctance to show too much affection. It was just something he always did, that lean-in half hug, as if he were the host of a Hollywood cocktail party, and he did it once more in the Camp Lejeune parking lot by the buses, wrapping one of his arms around Connie, then Bill: just one.

As Bryan fell back in line with the men of Fox Company, his back to his parents, Bill stood nearby, holding a camera.

"Yo, B," he said, and he pressed the flash button.

The photo caught Bryan as he was still turning around to acknowledge his father. In the photo, he is glancing over his right shoulder, his military cap square on his head, a sly smile on his face. He looks confident, ready. It was the last glimpse Bill and Connie got of him before he boarded his bus.

They watched the buses pull away from the inside the Blazer, and Connie pressed her hand to the glass as Bryan's bus passed across the passenger's-side window. It was 2:02 a.m. on Thursday, July 27. She noticed that, too. They started back to Bryan's house, winding their way out of the more than 153,000 acres of sand and swamp that comprised the base, out to Route 24 again, saying nothing to each other. Talking about an emotional night would only make it more emotional. Words would only lead to tears. When they got back to Bryan's house, they went to bed. They didn't sleep much.

Bryan had planned to rent out his house while he was in Iraq. Early that morning, Bill and Connie woke and began packing up whatever personal valuables Bryan had left behind-his computer, clothes, DVDs, CDs, and the like-fitting what they could into his car, padlocking the rest in his most spacious bedroom closet. At eight p.m., they closed the house's front door, locked it, and left. Driving through the dead of night from Jacksonville to Doylestown, Bill and Connie Buckley didn't stop at a motel, and they didn't speak to each other. For eight and a half hours, the only sound in the Chevy was low music coming from the stereo, 475 miles of Elvis.
G/O Media may get a commission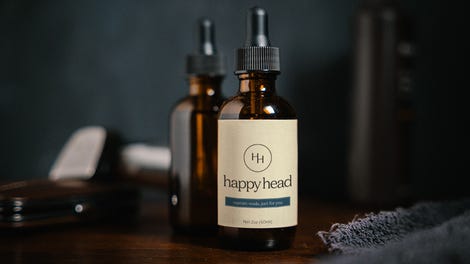 Talk to Sielski below. Buy his book here.