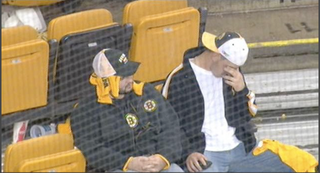 Got an image you'd like to see in here first thing in the morning? Send it to tips@deadspin.com. Subject: Morning crap
I don't think that's what I meant that headline to do, but whatever it's Friday and I can't find my pants!
Anyway, this was supposed to be such a big night for Boston. Instead we have a bunch of dejected looking people heartbroken after two South-coast teams peed all over their dreams . Carolina disposed of the Bruins in overtime to end their season and Orlando disposed of the Celtics in regular time to force a game 7 Sunday.
Bruins Lose Heartbreaker [Sadfans.com]
******
Good morning. It's Friday. Find my pants.