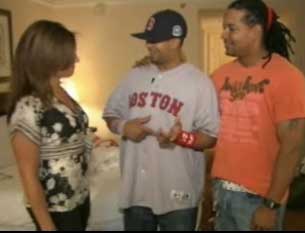 Because no Boston Red Sox stone shall be left unturned over NESN, Scott's Shots points out an odd video that features Manny getting intimate in his hotel room — watch yo mouth! — with his hairdresser, named LMonstro. (You have to sit through an annoying ad to watch the video.)
We'll let Scott's Shots describe it.
Manny, in an orange "Rock 'n Rave Show" t-shirt (perhaps a Gio Goi?) stood with his right arm around the shoulder of Lmonstro and briefly discussed his preferred hairstyles and styling methods. "I got tired of the red," he said. It also seems LMonstro was also heavily involved with David Ortiz's beard from last year. [And, (almost) interestingly, Lmonstro is not the braider of Manny's hair, that's done by a woman in New York, according to Ramirez.]
We haven't been able to find much about Lmonstro on the Web, which makes us think his name is actually "Harold Penderton" and he lives in south Gloucester.
Manny Being Made Up [Scott's Shots]