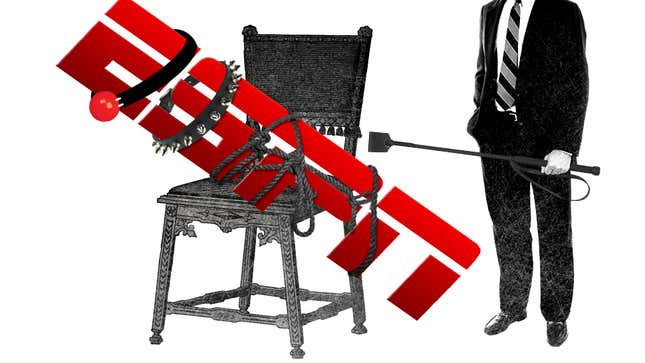 "We're not in the business of antagonizing our partner," the ESPN executive told the New York Times, defending the network's sudden withdrawal of support for a program that made the NFL look bad. This wasn't last week. This was nine years ago.
How running an NFL team is like running a restaurant | Chef Emeril Lagasse
Friday's revelation that ESPN had pulled out of an upcoming documentary series on concussions because of pressure from the NFL was a new variation on an old story. The Worldwide Leader has lashed itself so tightly to the leagues it does business with that it occasionally finds itself in the strange position of having to weigh the wishes of one arm of the network against the prerogatives of its media "partners." The arrangement has created an awkward power dynamic with the leagues: ESPN is the submissive john paying for the privilege of getting flayed.
What happened last week with League of Denial, a partnership between ESPN and Frontline, was familiar to anyone who remembers the fate of Playmakers. The show was the handiwork of then-executive VP Mark Shapiro, who's the guy quoted up top. It was a strange creature to begin with. One of ESPN's first cracks at a scripted series, it followed the players and coaches of a fictional pro football team, the Cougars, in a league that was never identified as anything other than "The League." And it was, for a basic cable channel with the family sensibilities of a CBS sitcom, daring.
Players used drugs. They got injured. They slept with each other's girlfriends. They got into fights. They struggled with their weight. They struggled with being gay. They committed crimes. All things real NFL players do and have done.
The show was critically solid and a commercial hit, drawing ratings better than anything on the network other than Saturday night college football and Sunday night NFL. Naturally, the NFL hated Playmakers as much as everyone else loved it. Commissioner Paul Tagliabue, without having watched an entire episode, called up Disney's then-CEO, Michael Eisner, to complain. Gatorade, a major NFL sponsor, pulled its advertising.
"The NFL opposed the show," Shapiro would later tell the Los Angeles Times, "and week after week we heard their complaints, objections and concerns."
In the recent ESPN oral history Those Guys Have All the Fun, Tagliabue stated the terms of the NFL-Bristol relationship with bracing, if sententious, candor. He cited a conversation with Eisner in which the CEO alluded to previous unflattering portrayals of the league, such as in the book North Dallas Forty. Eisner's suggestion was that the NFL had been down this road before. Tagliabue recalled his response:
North Dallas Forty, are you kidding me? It's got nothing to do with this issue. The author of North Dallas Forty did not have a contractual relationship with the NFL. He was an independent author, a former player, who was not under an obligation to present NFL football, NFL players, NFL teams in a way that makes it a valuable, credible, respected product. You [Disney and ESPN] have that obligation, and I think what you're doing here is directly undercutting that. People want to watch sports when they can respect the athletes. This program leads them to have a view of the athletes that leads them to disrespect the athletes.
In response, ESPN removed Playmakers commercials from its Sunday Night Football broadcasts. The show was allowed to play out its 11-episode order, but after the final episode—"Week 17" aired in November—no one expected it to come back. Despite the ratings, ESPN had much more to lose: It was in negotiations with the NFL to renew its contract for Sunday Night Football, and as the Milwaukee Journal Sentinel put it, ESPN "did not want to risk getting canceled by the NFL."
The decision to kill the show was made in January, but ESPN waited until after the Super Bowl to announce it. "We didn't want to rain on the NFL's parade," Shapiro told the Los Angeles Times.
Other networks approached ESPN about picking up the series, but SportsBusiness Daily reported that Bristol summarily turned them down for fear of further upsetting the NFL
Shapiro said the league's reaction was "the primary factor" in the show's end, and declared to the New York Times that ''ESPN is intoxicating for the NFL." (Shapiro was still drunk on Playmakers, though. According to Those Guys Have All the Fun, he met with NHL commissioner Gary Bettman before the 2004-05 lockout and proposed a sort of Playmakers for hockey, which could air during a work stoppage. Bettman demurred.)
A year after Playmakers' cancellation, Shapiro went to work for Dan Snyder.
ESPN isn't always so solicitous. Not long after ABC/ESPN inked a six-year, $400 million deal in 2002 for broadcast rights to the NBA, David Stern and Shapiro began butting heads, as chronicled in Those Guys Have All the Fun. One issue was ESPN's indifference to the WNBA, which Shapiro thought would never draw ratings. He wanted the league off ESPN entirely, but to compromise with Stern he wound up shunting it off to the hinterlands of ESPN2.
Stern was a tireless kibitzer in those early days, at times taking his complaints directly to Disney's brass. Every aspect of ESPN's coverage was scrutinized, even the camera angles. (The NBA wanted tighter shots and fewer wide-angle views.) The league was also unhappy with Shapiro's pick of Brad Nessler, a college hoops veteran who was relatively new to the pro game, as the lead NBA play-by-play guy. (The NBA preferred Marv Albert, as it should have.)
And then there was Stephen A. Smith, who in those days was making the transition from well-sourced NBA reporter to screaming shit-stirrer, at Shapiro's urging. Stern wasn't a fan, and he let it be known. In Those Guys, he's diplomatic: "With Stephen A. we simply wanted clarification. We thought we had two different personalities—the Stephen A. on CNN, and the Stephen A. from his column. I call Stephen A. a friend—he is smart and articulate—and all I said to him was 'There's somebody who is trying to program you in a way that is not you.'"
Stern did a lot more than that, however. According to a source, the commissioner had someone make a sort of lowlight reel of Stephen A.'s television appearances, whereupon he personally delivered the videotape to then-ESPN president George Bodenheimer. Bodenheimer was apparently unmoved.
Sometimes, Stern's approach was more akin to working the refs. During the 2008 NBA draft, as Kansas power forward Darrell Arthur plummeted down the board, ESPN's Ric Bucher, citing three front-office sources, reported that an "undisclosed kidney issue" was sandbagging Arthur's prospects. (His agent would later explain that rumor was based on a pre-draft blood test indicating abnormally high levels of creatine; followup bloodwork, however, had determined Arthur's kidneys were "completely normal.")
Arthur was still on the board when Bucher broke into the draft broadcast with his report. The forward fell to the 27th pick, and then got traded three times over the next few hours, eventually winding up in Memphis. Stern was furious with ESPN, according to a source. The network's reporting was affecting the course of a live event it was televising. The commissioner pulled aside a producer and said as much, their discussion stretching on so long that the announcement of the Boston Celtics' pick at the end of the round was delayed—inexplicably, to viewers at home.
Stern had reason to believe his bawling out ESPN would work. "Bottom line is that Stern usually got his way," Shapiro said in Those Guys. "He'd scream and scream and we'd cave."
A year ago, former Orlando Magic coach Stan Van Gundy—who'd once called David Stern the biggest dick in sports—was up for an analyst job on ESPN's NBA Countdown. In Van Gundy's telling, he'd reached an agreement with Bristol, only to have ESPN renege.
Van Gundy saw Stern's hand at work. "What I find fascinating … you have to give David Stern and the NBA a lot of credit," he said on Dan LeBatard's radio show. "ESPN pays the league, and then the league tells them what to do."
What cost him his job was the same thing that cost Frontline a high-profile partner in its NFL head-injury investigation. It was the basic absurdity of a mongrel business like ESPN's. "You gotta have no balls whatsoever to pay someone hundreds of millions of dollars," Van Gundy said, "and let them run your business."
Additional reporting by Tommy Craggs. Image by Jim Cooke.